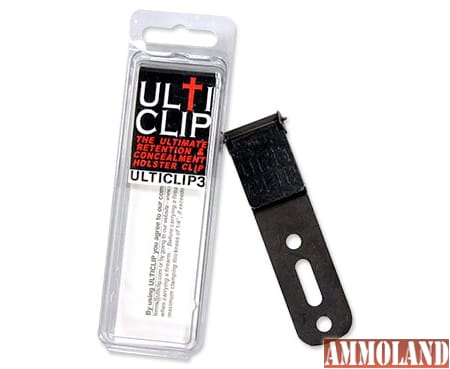 Springfield, MO -(Ammoland.com)- The newly designed ULTICLIP3 is the latest offering from our friends at UltiClip. The new design incorporates a slotted center and second attachment hole to offer a more versatile mounting solution.
The UltiClip3 is the perfect addition to any of our holsters that use any type of belt clips, especially our new two hole single clip holsters like the Appendix Carry, Women's Appendix and Freedom Carry holster.
The UltiClip and UltiClip3 is the perfect solution for carrying a CrossBreed Holster when you are unable to wear a belt or when you are wearing a nylon belt where slipping can occur.
Find out more about the new ULTICLIP3
Watch the product overview video here or watch it below:
About CrossBreed Holsters:
CrossBreed Holsters was founded in 2005 by Mark Craighead, an avid shooter, re-loader and concealed carry permit holder introduced to firearms at a young age by his father. Craighead created a design of his own, incorporating the best features of other holsters and discarding the non-functional elements. In doing so, he handcrafted a new breed of holsters. Since then, CrossBreed Holsters has gained national recognition as a leading manufacturer of some of the best and most functional concealment holsters available on the market today.
For more information, go to www.CrossBreedHolsters.com.