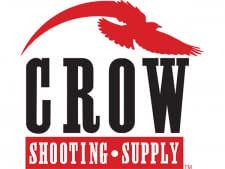 Montezuma, IA -(AmmoLand.com)- Crow Shooting Supply is proud to announce it has added the full line of Mossberg firearms to its ever-growing selection of wholesale firearms.
Spanning shotguns, rifles and one pistol model, Mossberg's lineup adds more than 360 new models to Crow's selection.
Included are nine models of the Maverick brand shotgun: the 88 pump in both 12 and 20 gauge, the Hunter Field over/under in 12 gauge, and the HS-12 Thunder Ranch over/under set up specifically as a defensive shotgun.
"Mossberg is one of the grand old names in American firearms," said Crow founder Steve Crow. "Just about everyone loves their shotguns. And their wide selection of rifles is a great add to our offerings."
New Mossberg shotguns include the 930 and 935 Magnum Pro-Series Waterfowl autoloading shotguns. Available in the Mossy Oak Shadow Grass Blades camo pattern, these shotguns are designed and built to withstand the wet, sometimes harsh conditions associated with waterfowl hunting.
Mossberg's rifles are available in both centerfire and rimfire cartridges, in bolt action, lever action and autoloading styles. The Mossberg Patriot bolt action is available with walnut, laminate or synthetic stocks in popular calibers. Some models come with a Vortex Crossfire II 3-9×40 scope already mounted.
The rimfire Mossberg International 715T has ergonomics and controls similar to an AR-15, and is available either with iron sights or a 30mm red dot optic installed. Mossberg's handgun is the 715P, the pistol-version of the 715T, also available with either iron sights or a red dot optic.
The full line of Mossberg firearms can be seen www.crowshootingsupply.com. For more information, or to partner with Crow Shooting Supply, call 800-264-2493.
About O.F. Mossberg & Sons, Inc.:
Founded in 1919, O.F. Mossberg & Sons, Inc. is the oldest family-owned firearms manufacturer in America, and is the largest pump-action shotgun manufacturer in the world. Leading the way with over 100 design and utility patents to its credit, and standing as the first ISO 9001 Certified long-gun manufacturer, Mossberg is considered to be one of the most innovative firearms manufacturers in U.S. History.
For more information on commercial, special purpose, law enforcement and military shotguns, rifles and accessories, please visit their website at www.mossberg.com.
About Crow Shooting Supply:
Crow Shooting Supply is a family-owned national wholesale distributor of firearms, ammunition reloading components and shooting accessories. Proudly serving retail gun shops, major sporting goods stores, gun clubs, shooting ranges and government agencies for 30 years, Crow is a full-line supplier of more than 120 of the world's premier shooting industry manufacturers.
For more information, or to inquire about partnering with Crow Shooting Supply, call 800-264-2493 or visit www.crowshootingsupply.com.