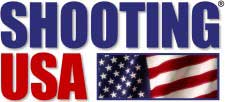 Nashville, TN -(AmmoLand.com)- New! Shooting USA – IDPA Back Up Gun Nationals
It's the match limited to the guns people actually carry, five-shot revolvers and small autoloaders. The defensive scenarios are creative and challenging on the Smith & Wesson Indoor Ranges in Massachusetts. And it's the best possible practice for a real-life emergency. Plus, the 1873 Single Action Army is one of History's Guns. And Colt re-launches the company and the new guns now focused on serving civilian customers.
Shooting USA's Impossible Shots – Byron's Ping Pong
Julie Golob is your host as our Master of the Longbow, Byron Ferguson, challenges himself with smaller and smaller targets that also get farther and farther away. Plus, from California, fast draw for record in stylish shoes. It's likely some kind of record. And a Bob Munden classic shot from the archives. 200 yards with a S&W snubby.
AIR TIMES BY TIME ZONE
The Shooting USA Hour Wednesday:
Eastern Time: 5:30PM, 9:00PM, 12:30 AM Thursday
Central Time: 4:30 PM, 8:00 PM, 11:30 PM
Mountain Time: 3:30 PM, 7:00 PM, 10:30 PM
Pacific Time: 2:30 PM, 6:00 PM, 9:30 PM
Shooting USA is listed as a one-hour show in your cable menu.
Shooting USA's Impossible Shots:
Wednesday:
Eastern Time: 10:30 PM, 2:30 AM, 5:30 AM Thursday
Central Time: 9:30 PM, 1:30 AM, 4:30 AM Thursday
Mountain Time: 8:30 PM, 12:30 AM, 3:30 AM Thursday
Pacific Time: 7:30 PM, 11:30 PM, 2:30 AM Thursday
Spy Games & College Pistol Match
The crew heads to Anniston, Alabama this week, for a story that lives inside the private firearms collection of World War Two spy, Colonel Farley Berman. And 100 college students compete at the Pistol Nationals at the CMP's new range, the Talladega Marksmanship Park. Stay tuned!
Stay Connected to Shooting USA
Be sure to "Like" Shooting USA on Facebook: https://www.facebook.com/JimScoutten.ShootingUSA
And, on Instagram!
Jim
Defending the 2nd by Example in the 23rd Year
[email protected]
About Shooting USA:
Jim Scoutten, America's Most Watched Firearms Reporter, has been on the beat for 14 years, reporting the stories of the Shooting Sports and the firearms Industry. The show produces a series of popular segments focusing on historical guns, the personalities in the sport and industry, insider reports from gun tests, and practical tips from shooting sports pros. The show appeals to shooting sports enthusiasts of all ages and skill levels by providing practical tips on safely handling, modifying and repairing their favorite guns.
For more information, please visit www.ShootingUSA.com.