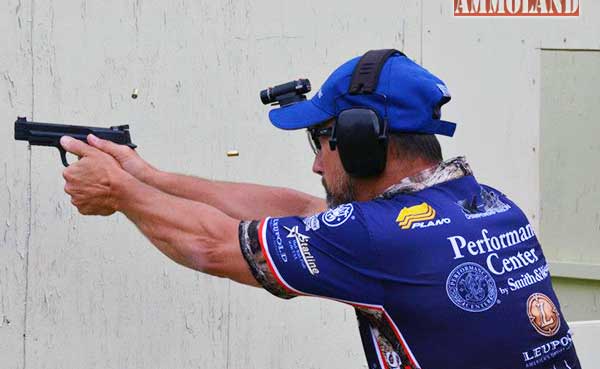 Hamburg, PA., –  -(Ammoland.com)- Tonight on Sportsman Channel at 7 p.m. EST, Doug Koenig Championship Season returns to Pasa Park, Illinois for the conclusion of the USPSA Production Nationals.
An anticipated rainstorm moves in, and the competitors become anxious to shoot the twenty-stage course of fire, 408 round count match without any delays.
As Doug reacquaints himself to shooting this discipline after a five year absence in USPSA, he digs in and follows his practice of shooting smooth while limiting any margins of shooting errors. With the match over, Doug regroups and shares a shooting tip and his plan of action for his next USPSA match.
Taking a break from the grind of competition, Doug heads out to the Northwest corner of New Jersey for an Eastern Black Bear hunt. Sitting on a ground blind amongst hardwoods, Doug waits patiently for a Boar to come in with his Leupold Topped T/C Encore Pro Hunter, backed with Hornady 250 grain SST.
To preview tonight's show, go to: https://vimeo.com/153232868, then tune in to see Doug's afternoon harvest of a magnificent New Jersey Black Bear.
Doug Koenig's Championship Season can be viewed on Sportsman Channel.
Monday at 5:30 pm (Eastern)
Thursday at 11:30 am (Eastern)
Thursday at 7:00 pm (Eastern Primetime)
Follow Doug at https://www.facebook.com/DougKoenigChampion and @doug_koenig on Twitter.
Doug Koenig's Championship Season returns to the Sportsman Channel. From remote hunting destinations to the firing line, join your host and world shooting champion Doug Koenig on his quest for the ultimate trophies. Championship Season features a gritty combination of fast-paced shooting competition and in your face hunting adventure. Whether it's bull elk, whitetails or competition shooting, one thing is certain…bullets will fly and it's gonna be a wild ride!