Free FN-Branded Gear and Magpul Accessories for Qualifying Purchases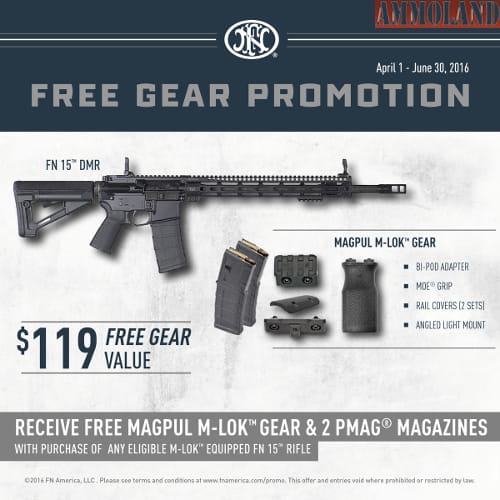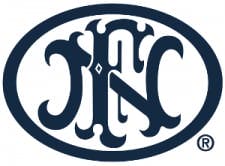 McLean, VA -(AmmoLand.com)- FN America, LLC announces the launch of a spring consumer promotion to offer free accessories for qualifying purchases of FN 15 modern sporting rifles, FNS and FNX pistols.
The spring Free Gear promotion starts on April 1, 2016 and is valid through June 30, 2016.
Customers who purchase an eligible model FN 15 modern sporting rifle will receive a package of Magpul accessories to completely kit out their rifle, including a Magpul-signature MOE grip, set of M-LOK rail covers, M-LOK angled light mount, and two (2) 30-round PMAG 30 AR/M4 Gen M3 magazines (retail value $119.00).
Additionally, customers who purchase a qualifying model of FNS striker-fired pistol or FNX hammer-driven pistol are eligible to receive an FN-branded tactical pistol case. The pistol case is the perfect range transport case for any pistol. Made from heavy duty 600D nylon, it features adjustable hook and loop components to accommodate a pistol, two additional magazines, cleaning kit and suppressor or accessory slide assembly (retail value $59.99).
To view the program's full terms and conditions, list of qualifying products or to submit a purchase for the free gear, please visit www.fnamerica.com/promo.
For questions relating to the program, please contact the FN Marketing Team at [email protected]
About FN America, LLC:
FN America, LLC, is a U.S. subsidiary of FN Herstal, S.A., a global leader in the development and manufacturing of high quality, reliable firearms for military, law enforcement and commercial customers worldwide. Headquartered in McLean, VA with manufacturing operations in Columbia, SC, FN America is passionately committed to providing its customers with a portfolio of products, training and support services under the FNH USA brand name that enhance their performance and safeguard their lives.
For more information, visit us at www.fnhusa.com or follow us on Facebook, Twitter and Instagram.