Constitutional Carry Becomes Law in Idaho!!!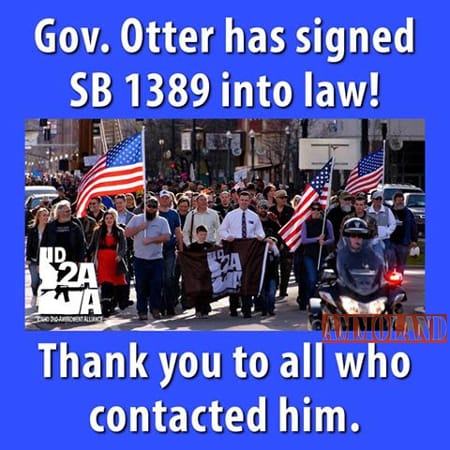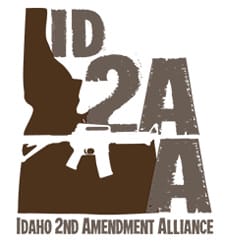 Canyon County, ID -(AmmoLand.com)- After four long years of battling to get Idaho as a Constitutional Carry state, we have done it! YOU have done it!
On March 25th, 2016, Gov. Butch Otter signed Constitutional Carry into law!
So many emails, phone calls, rallies, flyers, and thousands of hours of citizens volunteering lead to this bill being passed and signed by Gov. Otter..
It is amazing what citizens can do when they speak up, stand up, and make demands of their elected officials.
We want to thank all who were involved with making this happen.
From our own organization, to national groups, to the legislators who sponsored, co-sponsored, and stood up for gun rights, THANK YOU!
Keep in mind that the law does not take effect until

July 1st, 2016

.
Even though Idaho will be a Constitutional Carry state, we encourage all law abiding gun owners to go out and to continue doing as much training as possible.
Proficiency with a firearm that you intend to use for defensive purposes is key to being a good citizen.
The naysayers are already predicting crime rates to go up, duels in Walmart parking lots, and a massive rise in negligent discharges.
Ask the naysayers just one question, "Can you show me in the states that have Constitutional Carry currently, where that is happening?"
They can't answer it because it isn't happening.
The FACTS are that crime is actually decreasing and that there is no rise in crime rate in other states.
The reality is that criminals have a harder time in Constitutional Carry states because they have no clue who is carrying or not carrying now.  Many think twice about robbing someone in a Constitutional Carry state.
Congrats once again to the citizens of Idaho and take this time to enjoy a great victory in the gun rights battle here!
Our efforts now turn to the immediate need to battle in the primaries against those who voted against your gun rights.
Several elected officials are being primaried in May who voted against Constitutional Carry. Rep. Maxine Bell (25) and Rep. Rich Wills (23) both VOTED AGAINST YOUR RIGHTS!
Details of their betrayal can be found here:
If you are in one of these Districts and would be willing to help us out please let us know IMMEDIATELY.
If you know people in these Districts then please contact them immediately and inform them of what they have done.
The articles above will tell you which towns they are from and which towns their Districts cover.
Please help us fund efforts to educate their voters by going to: www.idahosaa.org/donate and donating $100, $75, or even $50 today to help with our efforts.
Sincerely,

Greg Pruett
Executive Director, ISAA
P.S. Even a small donation of $25 or $10 goes a long way to helping our efforts continue.
Idaho Second Amendment Alliance:
The Idaho Second Amendment Alliance exists to fight for the 2nd Amendment rights of all Idaho citizens. Even in a gun friendly State like Idaho, the 2nd Amendment is under constant threat.
For more information, visit: www.idahosaa.org.