Boardwalk is the largest conservation project undertaken through a Memorandum of Understanding between the Dept. of the Interior, AFL-CIO and Union Sportsmen's Alliance, signed in July 2014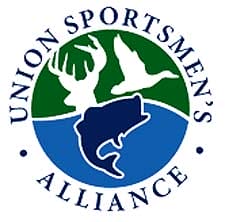 Franklin, TN -(AmmoLand.com)- Department of the Interior Secretary Sally Jewell, Union Sportsmen's Alliance Chairman and AFL-CIO President Richard L. Trumka, U.S. Fish & Wildlife Service staff and members of the community came together today to dedicate a new boardwalk connecting the city of Liberty, TX with the nearby Trinity River National Wildlife Refuge (NWR) with a ribbon cutting ceremony and plaque unveiling.
Located approximately 40 miles northeast of Houston, the 30,000-acre Trinity River NWR lies within the largest floodplain basin in Texas. The boardwalk represents the culmination of the largest conservation effort thus far under a Memorandum of Understanding signed in Juy 2014 between the U.S. Department of the Interior, AFL-CIO and Union Sportsmen's Alliance (USA) that pairs the USA's volunteer-based Work Boots on the Ground conservation program with shovel-ready projects on public lands that, due to budgetary constraints and cutbacks, lack critical resources.
Constructed by volunteers from the Houston Gulf Coast Building and Construction Trades Council, the Palmer Bayou Boardwalk is an intrinsic piece of Trinity River NWR's From Crosswalks to Boardwalks initiative and allows hikers to traverse more than 500 feet of wetlands, access 13 miles of trails and have a more intimate view of the bayou.
"The Palmer Bayou Boardwalk is a great example of the importance of volunteers to rebuild, renew and restore our country's national parks and national wildlife refuges," Secretary Jewell said. "I applaud the AFL-CIO and the Union Sportsmen's Alliance for their collective effort and foresight in bringing together numerous volunteers whose invaluable contributions make a significant impact on important conservation projects nationwide. This boardwalk offers visitors, especially families, access to nature and some of America's most unique wildlife."
Weather conditions and more than 100 days of flooding at the refuge delayed the completion of the boardwalk and further complicated the already challenging project.  Once flood waters receded, volunteers carried nearly $60,000 worth of concrete piers and construction materials on foot through the swamp to prevent vehicles from getting stuck in the mud.
"The Union Sportsmen's Alliance brings a lot more muscle to the conservation movement," Trumka said.  "The volunteers who built the boardwalk at Trinity River National Wildlife Refuge gave up numerous weekends, planned out the work zone, brought in and operated machinery and heavy materials all in the face of intense heat, mosquitoes and a lot of mud and muck.  To every conservation project USA volunteers take on, they bring an unmatched work-ethic, superior trade skills and a desire to give back to their community."

"This project is a success story about how partnerships among agencies, communities and volunteers working together can accomplish great things," said the U.S. Fish and Wildlife Service Southwest Regional Director Dr. Benjamin Tuggle. "I'm especially enthusiastic for schools to use the boardwalk as an outdoor classroom, directly connecting the next generation with nature and conservation."
About Work Boots on the Ground:
Work Boots on the Ground is the Union Sportsmen's Alliance's flagship conservation program that brings together union members willing to volunteer their time and expertise to conservation projects that improve and enhance public access to the outdoors, wildlife habitat and outdoor experiences for communities across America. USA's Work Boots on the Ground program works closely with federal, state and local agencies and other conservation groups to provide manpower needed to complete critical projects that may otherwise go undone.
About the Union Sportsmen's Alliance:
The Union Sportsmen's Alliance (USA) is a union-dedicated, 501(c)(3) nonprofit organization whose members hunt, fish, shoot and volunteer their skills for conservation. The USA is uniting the union community through conservation to preserve North America's outdoor heritage.
For more information, visit www.unionsportsmen.org or connect on Facebook, Twitter and Instagram.