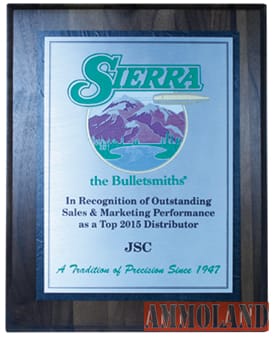 Chapin, SC -(AmmoLand.com)- Jerry's Sport Center (JSC) is pleased to share that it has received a Top 2015 Distributor Award from Sierra Bullets in recognition of outstanding sales and marketing.
"To be selected as a top distributor by a highly reputable company such as Sierra Bullets, who continues to redefine the levels of precision and who epitomizes quality control, is a fitting testament to the endless hard work and determination of the men and women of JSC," stated Brad Johnson, USC CEO and COB.
Founded in California, Sierra Bullets has been dedicated to manufacturing the most accurate bullets in the world since 1947. Since relocating to Sedalia, MO in 1990, Sierra has manufactured a very wide range of bullets for both rifles and pistols. Today, Sierra uses the highest level of precision in design, manufacturing, and quality control standards to produce bullets used for precision target shooting, hunting and defense purposes.
Sierra Bullet lines include: BlitzKing, Varminter, GameKing, MatchKing, Tipped MatchKing, Pro-Hunter, Sports Master, and Tournament Master. Available calibers range from .204 through to .500.
About United Sporting Companies (USC):
United Sporting Companies (USC) is a leading nationwide distributor of hunting, outdoor and marine products. The company operates through two subsidiaries, Ellett Brothers and Jerry's Sport Center which were founded in 1933 and 1949, respectively. Providing the Industry's largest product selection of over 85,000 SKUs in combination with the endless support of the most knowledgeable sales force in the country, USC proudly and efficiently serves over 30,000 independent retail customers across all 50 states through sales offices and distribution centers in Chapin, SC, Newberry, SC, Pittston, PA, Downingtown, PA, Dayton, OH, Spring Hill, KS, Dallas, TX, and Sacramento, CA.
For more information, visit: www.jerryssportscenter.com.