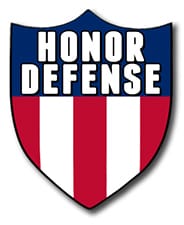 Atlanta, GA -(AmmoLand.com)- The first few reviews are in on the new Honor Defense All-American made pistols, and they are beyond positive.
At GunsAmerican.com, long-time gun writer Dave Higginbotham found that, "The Honor Guard is one of the most fully realized designs I've ever seen."
He rated the Honor Guard as one of the best single-stack 9MM pistols he'd ever seen, and raved about the frame, the slide, the ambidextrous controls and the exceptional texturing done on most surfaces. His conclusion?
"This is an impressive debut."

Concealed Nation called the Honor Guard "perfection" in a concealed carry handgun. "The profile is slim, and…[Honor Defense] took extra care to keep everything as close to the frame and slide as possible, so nothing really sticks out that could potentially get caught up on clothing or other obstacles in the way while drawing."

"It really is a great design."

Guns.com touts that the new Honor Guard "raises buyers expectations for new products." "Honor Defense's lean and laser-like approach may just position them to play alongside big-league manufacturers…Their consumer-focused approach should deliver convenience and build loyalty from consumers jaded by customary big-company waiting games."

"All of us at Honor Defense are very gratified with these accolades," said Gary Ramey, President of Honor Defense. "We knew we were making some great pistols–at some of the best prices you'll find anywhere–but it's very rewarding that others are recognizing the quality and value of our Honor Defense pistols."
All Honor Defense pistols are built with high quality standards and feature:
Striker-fired design that can handle +P loads
Trigger has a wide face with a crisp 7lb pull
Short reset for quicker second shot and better control
Ambidextrous slide catch and magazine catch
Available with or without an ambidextrous manual safety lever
Modular system with stainless steel chassis
Custom texture design to provide better grip in all situations
Replaceable back straps to allow customization.
Read these great reviews of the Honor Guard Pistols at:
About Honor Defense:
Honor Defense offers the finest American-made pistols-using only American partners and materials. Honor Defense pistols are built with more features and higher quality standards than other pistols in their size range. To create its pistols, Honor Defense secured input from a panel of professionals that have defended our nation or have extensive credentials in self-defense training.
For more information, please visit www.HonorDefense.com.