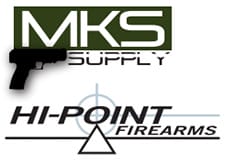 USA – -(Ammoland.com)-  It is with deep sadness that we announce the passing of "Tom" Deeb, founder and former owner of Hi-Point Firearms on March 21, 2016.
Tom was enjoying semi-retirement in Texas.
The loss that is felt by his family (several of whom work at Hi-Point Firearms), and his many friends, cannot be put into words. Tom was an extraordinarily smart and accomplished entrepreneur who built a company that still represents the fair practices and honest principles he implemented in establishing it.
Deeb and Hi-Point Firearms was recently the subject of a feature article in the NRA's American Rifleman, May, 2015.
Tom was involved in many organizations. He most enjoyed working with his many friends, law enforcement personnel, and The Association of Firearm and Tool Mark Examiners (AFTE).
Tom had an unwavering desire to always do the right thing, and this principle will be continued by the current Hi-Point owner Mike Strassell, who has been a business partner with Tom for 30 years.
"Tom Deeb founded Beemiller, the manufacturer of Hi-Point Firearms. Tom delivered a revolutionary line of economical, robust, reliable and accurate forearms. More importantly though, Tom was a great personal friend of our company and family for decades and will be greatly missed by us all."–Charles Brown, President, MKS Supply, LLC.
Tom Deeb was very involved in many organizations promoting and protecting the Second Amendment, hunting rights and the firearm industry. Tom was a veteran of the U.S. Airforce, 1972-1976 serving in SE Asia.
Hi-Point is one of the largest gun manufactures in the United States will continue manufacturing under the ownership of Mike Strassell who was a business partner and friend of Deeb's for over 30 years.