Bill White receives state merit for partnership efforts, private lands program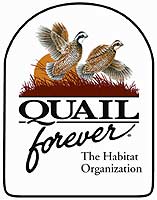 Kansas City, MO -(AmmoLand.com)- Quail Forever recently honored Bill White, Private Land Services Division Chief of the Missouri Department of Conservation, as part of the "Faces of Conservation" awards at National Pheasant Fest & Quail Classic 2016.
The national award highlights the varied efforts of individuals to conserve wildlife habitat and support the overall conservation mission of Quail Forever.
"Thanks to the efforts of Bill White, partnerships with private landowners and conservation groups have propelled Missouri to be a leader in wildlife habitat management nationwide," stated Elsa Gallagher, statewide quail coordinator for Quail Forever in Missouri. "His efforts as a lifetime supporter of conservation on private lands and his keen interest in restoring bobwhite habitat are worthy are recognition from the outdoor community."
With nearly 30 years of experience as a wildlife biologist working for MDC, White is both a passionate quail hunter and a promoter of private lands management in Missouri. White's leadership at MDC has resulted in Missouri developing one of the first National Bobwhite Conservation Initiative Focus Areas in the nation. Working with NRCS and Quail Forever, he was also instrumental in designing a successful Farm Bill Wildlife Biologist program in the state. White leads a division who shares his mission to help private landowners tap into the increasing amount of quail-management resources available throughout the state.
"With more than 93 percent of state's land base in private ownership, our department understands that the conservation of fish and wildlife resources in Missouri is closely tied to the stewardship efforts of private landowners; an endeavor Bill White has devoted his career to," explained Tom Draper, deputy director for the Missouri Department of Conservation. "We applaud Bill's efforts to coordinate and collaborate with private landowners to assure their land use goals for natural resources are being met, and we look forward to the continued success of the department's private lands program under the leadership of Mr. White."
About Quail Forever:
Pheasants Forever, including its quail conservation division, Quail Forever, is the nation's largest nonprofit organization dedicated to upland habitat conservation. Pheasants Forever and Quail Forever have more than 145,000 members and 700 local chapters across the United States and Canada. Chapters are empowered to determine how 100 percent of their locally raised conservation funds are spent; the only national conservation organization that operates through this truly grassroots structure. Since creation in 1982, Pheasants Forever has spent $634 million on 502,000 habitat projects benefiting 14.1 million acres nationwide.