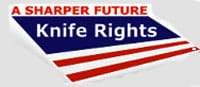 Gilbert, AZ –-(Ammoland.com) – Knife Rights has donated Freedom's Steel™ V – Liberty's Heritage Bowie™, an extraordinary one-of-a-kind 22-inch Mosaic Damascus Bowie knife by Master Smith Kyle Royer with Jim Small engraving, to the National Rifle Association's Institute for Legislative Action (NRA-ILA).  Freedom's Steel™ V – Liberty's Heritage Bowie™ will be a featured auction item at the NRA-ILA Dinner and Auction during the NRA Annual Meeting in Louisville, Kentucky. Proceeds from the sale of Freedom's Steel™ V will support NRA-ILA's defense of the Second Amendment. Knife Rights is the Second Front in Defense of the Second Amendment™
This is the fifth year in a row that Knife Rights has donated a Freedom's Steel™ knife, raising nearly $100,000 for NRA-ILA the first four years.  For information on the NRA-ILA Dinner and Auction go to: http://www.nraam.org/special-events/nra-ila-dinner-and-auction.aspx
"Knife Rights and the NRA have a common interest in protecting our civil rights and specifically the right to own and use tools appropriate for self-defense. At a time when our Second Amendments rights are under unprecedented assault, we are proud to assist NRA in protecting these rights." said Knife Rights Chairman and Founder Doug Ritter. "We are sincerely grateful for the support provided to us by NRA-ILA as we fight the Second Front in Defense of the Second Amendment."
"Since 1871, the NRA has fought to defend the rights of law-abiding Americans. We are truly grateful for the support of our friends at Knife Rights and their continued contributions to our ongoing efforts to preserve our freedom," said Chris W. Cox, Executive Director of the NRA's Institute for Legislative Action."
Ritter noted, "we are indebted to these incredibly talented artisans who contribute their valuable time, talents and materials to support Knife Rights by creating this extraordinary knife." Each craftsman's efforts and every component of Freedom's Steel™ V was donated to Knife Rights to support its efforts to defend and enhance our right to own and carry knives as tools used daily by millions of Americans and at times wielded as an "arm" in self-defense.
Freedom's Steel™ V – Liberty's Heritage Bowie™ was conceived and sponsored by Knife Rights expressly to benefit NRA-ILA.
About Freedom's Steel™ V – Liberty's Heritage Bowie™
Master Blade Smith Kyle Royer has forged a unique new mosaic Damascus pattern he calls "Cross Point" with which he hand-forged this extraordinary traditional American pattern Bowie blade. The Damascus is a geometric progression produced with alternating layers of 15N20 and 1084 high carbon steel.
The handle is carved from exhibition grade 10,000-year-old fossil walrus ivory from Native Americans in Alaska. The stainless fittings and forged "S" guard are heavily engraved by Master Engraver Jim Small. Small has highlighted his fine engraving with inlays of Green Gold, Rose Gold and 24K Gold.
Measuring 22 inches from finial to tip, Freedom's Steel™ V – Liberty's Heritage Bowie's 15 1/2-inch long and 3/16-inch thick blade is capable of cutting through a hanging three-inch thick hemp rope with one swipe. It will chop through a 2 x 10 and then still shave slivers off a single hair. While it is more likely to be exhibited as an exquisitely beautiful example of American craftsmanship, it is still a perfectly functional tool handcrafted to do any job a Bowie knife might be asked to do.
Freedom's Steel™ V is presented in a custom-built walnut display case by Michael Zieba of Zieba New York located in Brooklyn, New York. It features glass on four sides and the top and a composite concrete and brass base.
Additional information and more photos of Freedom's Steel™ V – Liberty's Heritage Bowie™ can be found at:  www.KnifeRights.org/FreedomsSteel
About Knife Rights:
Knife Rights (www.KnifeRights.org) is America's grassroots knife owners organization, forging a Sharper Future™ for all knife owners. Knife Rights is dedicated to providing knife owners an effective voice to influence public policy. In the past six years, Knife Rights has passed pro-knife legislation repealing knife bans in 15 states, stopped anti-knife legislation in 7 states and helped defeat ivory and mammoth ivory bans in 18 states. Knife Rights is also the lead plaintiff in a federal civil rights lawsuit against New York City and the New York District Attorney over their persecution of knife owners. Knife Rights is the Second Front in Defense of the Second Amendment™.
About National Rifle Association's Institute for Legislative Action (NRA-ILA):
The Institute for Legislative Action (ILA) is the lobbying arm of the NRA (www.nraila.org). Established in 1975, ILA is committed to preserving the right of all law-abiding individuals to purchase, possess and use firearms for legitimate purposes as guaranteed by the Second Amendment to the U.S. Constitution. While NRA is a single-issue organization, ILA is involved in any issue that directly or indirectly affects firearms ownership and use. ILA is also involved in educating the public about the facts concerning the many facets of firearms ownership in America.