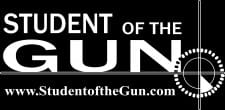 Biloxi, Mississippi (Ammoland) "There's been an accident, we are on the way to the hospital." Those words heard through the earpiece of a telephone are enough to make any parent's knees weak and their heart begin to pound in their chest.
Although we don't like to think about it, any time we let our kids out of our sight, let them stay over at a friends house or ride in a car with a friend, we fear those dreaded words. My wife and I have experienced those words.
The phone call usually includes words of reassurance. "Billy is okay." or "Suzy got hurt, but its not that bad." Let's face it, regardless of the words of reassurance, we cannot truly calm down until we get to the Emergency Room and see with our own eyes that our child is going to be alright. In our case the car crash only resulted in very minor injuries to our then young daughter.
Close to Home
Recently a similar situation happened to a member of our Student of the Gun family. A dad got the phone call.
"There has been an accident, we are on our way to the hospital."
Our friend's teenage daughter was involved in an ATV crash. The father of the daughter's friend reassured the injured girl's dad.
"She has a cut on her leg, but it's not that bad."
The "cut" was gash in the girl's inner thigh that severed the skin and fatty tissue down to the muscle.
On the ER table the wound was opened to be cleaned and stitched (20+ stitches) and our friend told us he could see the femoral artery pulsing just under the damaged area.
Fortunately, our friend's daughter is young and healthy and strong. The doctors anticipate a full recover after the stitches are removed and she completes some physical therapy. For that news we are all grateful.
Activist Mommies
The activist mommies of America, many of them on the payroll of Michael "Nanny" Bloomberg, love to admonish us and warn us of the danger of guns in American households.
One propaganda scare piece stated that there are guns in one of every three homes in the USA and that a large percentage of those are "unsecured".
Actually, there are numerous cookie-cutter Op Ed pieces that seem to run on a regularly scheduled basis advising parents to make inquiries before they allow they child to visit another home for a "play date".
While the activist mommies disguise their left-wing progressivism (only the Government should have guns) as a child safety concern, how many advise of other safety inquires?
Read the Entire Article Here.