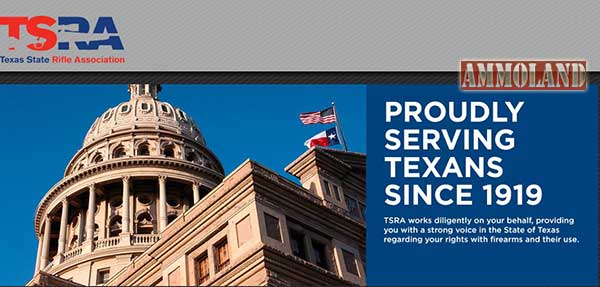 Austin, TX -(AmmoLand.com)- The Texas State Rifle Association (TSRA) reports its 2016 TSRA Annual Meeting & Foundation Banquet was one of the most successful events in the association's history.
The annual event, held at the Austin Marriott North Hotel in Round Rock, Texas, exceeded fund-raising goals and will help to promote youth shooting sports programs across the Lone Star State.
As part of the TSRA annual meeting, the TSRA Foundation Banquet brought together hundreds of sportsmen and firearm enthusiasts who are dedicated to preserving our American traditions in shooting sports and youth education. The event featured live and silent auctions, raffles, and a lot of fun.
"Our future in shooting sports and hunting begins today, so its vitally important that Texans unite in support of programs that provide shooting opportunities and education for our youth," says Doug DuBois Jr., executive director for the Texas State Rifle Association. "Today, we face increased urbanization and growing public apathy toward the rights of gun owners. The TSRA Annual Meeting and other events like it help us preserve our state's traditions and defend the Second Amendment. We're very pleased with this year's turnout and the generous show of support for youth shooting sports in Texas."
The TSRA expresses its sincere appreciation to its event sponsors AEPS, Inc. Texas Law Shield, Self-Defense Fund, and the Brenzovich Firearms & Training Center.
About the Texas State Rifle Association:
Founded in 1919, the Texas State Rifle Association is the largest firearms and shooting sports organization in Texas with nearly 40,000 members. TSRA is also the largest, award-winning state affiliate of the National Rifle Association and is sanctioned by the Civilian Marksmanship Program. As a part of its public education efforts, the association produces a full-color bimonthly publication, TSRA Sportsman, which updates members on current news, hunter education programs, shooting sports competitions, and important issues effecting their Second Amendment rights. The TSRA also hosts an annual meeting every February that features exciting fund-raising auctions, informative speakers, exhibitors, and other events.
For membership or other information about the Texas State Rifle Association, visit www.TSRA.com or call 512.615.4200.