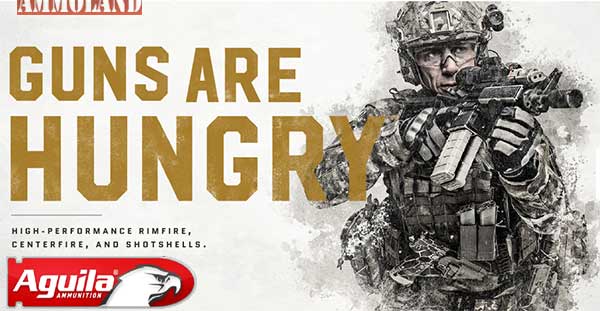 Conroe, TX -(AmmoLand.com)- Texas Armament & Technology (TxAT)/Aguila Ammunition have recently joined forces with the NRA Whittington Center in support of their youth Adventure Camp.
TxAT/Aguila Ammunition will donate 50,000 rounds of Aguila .22 rimfire to the camp this year.
"The Whittington Adventure Camp is known as one of America's best outdoor youth camps for boys and girls ages 13 to 17," said Executive Director at NRA Whittington Center, Wayne Armacost. "Over the two-week camp, young shooters will learn the basics of rifle, pistol, shotgun, muzzleloader and archery. In the process, campers will fire over 90,000 rounds of ammunition. All firearms and ammunition are donated to the Adventure Camp and provided to the campers. This generous support from Aguila Ammunition ensures that each of these young men and women has the opportunity to learn to shoot in a safe and fun environment."

"We are honored and excited to support the Whittington Center Adventure Camp, a program that not only gives youth a chance to learn the fundamentals of shooting all firearms, but also competition shooting, marksmanship and most importantly, shooting safety," states Kristi Drawe, Director of Marketing for TxAT/Aguila Ammunition. "The future of our industry is reliant on the younger generation. Aguila is honored to be some of the first ammunition these shooters will ever shoot, in what hopefully becomes a lifetime passion. We will be part of the memories made within this program."
The Whittington Center is a 501(c)3 non-profit organization, relying heavily on tax-deductible donations. While closely associated with the NRA the Whittington Center is not funded or managed by the NRA, thus making industry support of this unique and challenging youth camp all the more the important. The donations bring competitions, classes and events to the Whittington Center, which helps keep the shooting sports alive for generations.
About Aguila Ammunition:
Aguila Ammunition, founded in 1961, is manufactured in Cuernavaca, Morelos, Mexico by Industrias Tecnos, S.A. de C.V. As one of the largest rimfire manufacturers in the world, Aquila utilizes cutting-edge technology to manufacture quality rimfire, centerfire and shotshell ammunition. Aguila offers a complete range of products for the self-defense, sport shooting, hunting, law enforcement and military markets. Texas Armament & Technology is the exclusive North American distributor for Aguila Ammunition.
About Texas Armament & Technology:
Texas Armament & Technology (TxAT) is a veteran-owned business, and is the exclusive distributor of Aguila Ammunition in the U.S. and Canadian markets. TxAT's mission is to provide technical support and assist in selecting the best ammunition, equipment, and training for customer requirements – ranging from weapons to counterterrorism and national security. TxAT also provides training, consulting services and technical support for clients in the aerospace and defense industries.
For more information on Aguila Ammunition, visit the company website at www.aguilaammo.com.