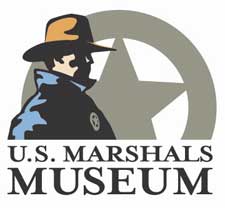 Fort Smith, AR -(AmmoLand.com)- Next week, the U.S. Marshals Museum will kick off its new lecture series, "WANTED: High Profile Cases of the U.S. Marshals Service." During the series, the museum will highlight several of the most exciting cases the U.S. Marshals Service has been involved in since the 1960s.
"The U.S. Marshals Museum is thrilled to begin its highly anticipated 'WANTED' lecture series," said Leslie Higgins, the museum's director of education. "Purchase your tickets now because these lectures are not-to-be-missed!"
The museum's first lecture by Deputy U.S. Marshal Arthur D. Roderick, Jr., will take place on Monday, March 7. Roderick, featured by the History Channel's documentary "Alcatraz: Search for the Truth," will discuss his involvement in the ongoing investigation and pursuit of the three Alcatraz escapees who have never been recaptured.
The series will be held the first Monday of each month from March-June in the North Rotunda of the Fort Smith Convention Center. The lectures are scheduled to begin at 6:30 p.m. on March 7, April 4, May 2 and June 6.
Tickets can be purchased at http://usmm.co/2016usmmlecture for $25 for the entire series or $10 per lecture.
About the U.S. Marshals Museum:
The future U.S. Marshals Museum will be a national museum located on the riverfront in Fort Smith, Ark. Museum plans include three permanent exhibit galleries, a temporary exhibit gallery, the Samuel M. Sicard Hall of Honor and a National Learning Center. The museum will tell the more than 225-year story of the U.S. Marshals Service, the oldest law enforcement agency in the United States, and honor the sacrifice of marshals killed in the line of duty.
For more information, visit usmarshalsmuseum.org.