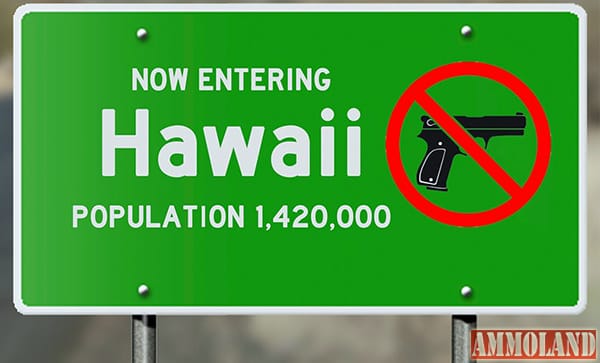 Kailua, HI -(AmmoLand.com)- The Senate Public Safety Committee, Chairman Senator Clarence K. Nishihara, will hear 3 gun bills Tuesday, March 15, 2016.
Please go to capitol.hawaii.gov , sign in, and click on the orange "submit testimony" button to send testimony on all three bills.
Deadline to submit testimony, 1:20pm Monday March 14.
HB625 Includes misdemeanor stalking among the offenses that disqualify a person from owning, possessing, or controlling any firearm or ammunition. 4th degree stalking can be as little as sending unwanted texts or e-mails, and conviction means permanent loss of gun rights, restorable only by Governor's pardon. OPPOSE. Support if 4th degree stalking removed.
HB626 Petty misdemeanor for drinking alcohol outside your home while possessing a firearm. Former Mayor Carlisle's "Deedy" bill. Targets police, as no one else can lawfully carry. OPPOSE. Off duty police carrying is a public safety benefit. The courts may eventually force Hawaii police chiefs to issue carry permits to civilians. Needs an amendment specifying .08 alcohol level.
HB2629 Requires the county police to enroll all gun permit applicants and those registering firearms in "Rap Back," a FBI data base of individuals arrested anywhere in the US, including on misdemeanor and even some civil charges. A fee of approximately $50 will be charged. The system is used now to screen job applicants for sensitive jobs, like foster parents, etc. No state currently uses it for firearms acquisitions. HRA OPPOSES. It creates a permanent federal list of firearms owners and charges a fee for exercising a civil right.
MAHALO,

HARVEY GERWIG, LEGISLATIVE LIAISON, HRA
About Hawaii Rifle Association:
HAWAII RIFLE ASSOCIATION, a non-profit organization registered and incorporated within the State of Hawaii and representing the National Rifle Association as its State Affiliate Organization for the State of Hawaii.
For more information, visit: www.hawaiirifleassociation.org.