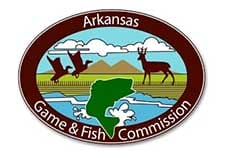 Perryville, AR -(AmmoLand.com)- Seven lucky youth hunters were selected to participate in the Arkansas Game and Fish Commission's Youth Turkey Camp April 15-16 at Lake Sylvia in Perry County.
The camp; now in its fourth year, was created to help introduce those youths with no outdoor mentor to the sport of turkey hunting.
AGFC Regional Education Coordinator Jason Hooks said many of the traditions historically handed down from parent-to-child or grandparent-to-child have been lost as people's attentions has been devoted to other pursuits in urban settings.
"So many of these kids and even their parents have never been introduced to turkey hunting," said Hooks. "Some have never been camping or stayed in a tent before. Hopefully this sparks their interest."
Participants are required to complete Hunter Education before attending camp. A parent also is required to attend the camp with the youth hunter. Hunters must be 12 to 15 years old to participate.
"Kids can start hunting turkeys and other big game in Arkansas at age 6, and most kids whose parents are already turkey hunters likely will take them before they're 12," said Hooks. "But this camp is for those youths and parents who don't know how or where to get started."
Participants meet for dinner Friday afternoon before opening day of the youth hunt. They learn about turkey identification, different types of turkey calls and hunting techniques. They also learn about turkey biology, gun safety and other aspects of the hunt few people think about unless they've been taught by a mentor. The evening wraps up with dinner and hunting tales around a campfire.
"We'll get up at 4:30 or 5 a.m. the next morning to put that knowledge to use and hunt some birds," Hooks said.
AGFC staff and hunter education instructors volunteer to take the young hunters and a parent out to the woods for a hunt.
This year's lucky hunter was Cade Johnson from Cabot. Johnson, who participates in the Arkansas Youth Shooting Sports Program, was able to take a 2-year-old gobbler the morning of the hunt.
Hooks says the event would not be possible without the help of many men and women who are concerned with the future of turkey hunting in Arkansas.
"Many of the volunteers are members of the National Wild Turkey Federation, which also helps sponsor the hunt," Hooks said. "We also get help from Bass Pro Shops, Quaker Boy Game Calls, Lynch Traditions Turkey Calls Jim Pollard Elite Calls and Natural Gear Camouflage."
Contact Jason Hooks at 501-251-7839 or email [email protected] for more information about the AGFC Youth Turkey Camp at Lake Sylvia.
To see a video about last year's camp, visit https://www.youtube.com/watch?v=vkZlvbHQ-bk or watch below:
About Arkansas Game and Fish Commission:
The Arkansas Game and Fish Commission plays an important role in keeping The Natural State true to its name. During the last 100 years, the agency has overseen the protection, conservation and preservation of various species of fish and wildlife in Arkansas. This is done through habitat management, fish stocking, hunting and fishing regulations, and a host of other programs.
For more information, visit www.agfc.com.