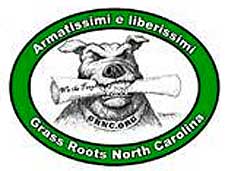 Raleigh, NC -(Ammoland.com)- Sir Walter Gun Club (SWGC) is proud to announce it will be conducting a USPSA Rifle/Pistol Caliber Carbine benefit match for Grass Roots North Carolina (www.GRNC.org) on April 30th 2016.
The match will consist of five challenging stages requiring a total of approximately 150 rounds. The match is run under the 2007 United States Practical Shooting Association (www.USPSA.org) Rifle rules. There are six divisions. Three for center fire and three for rim-fire. The divisions are: Limited (Iron sight guns), Tactical (one optic), and Open (more than two optics). For center fire 5.56/223 is scored as minor power factor whereas 308 or similar calibers are scored as major power factor. All rem-fire divisions are scored as minor. We use only cardboard targets so any type of ammunition is allowed (green-tip, etc.).
Registration for the match is done online at the following link: https://practiscore.com/swgc-uspsa-rifle-april-1/register. Registration opens on April 22nd at 5:00 AM and closes April 29th at 7:00 PM. The match is limited to 95 competitors. The minimum donation is $20.00 per competitor paid the day of the match when registration is completed.
The following link will take you to a video of the last USPSA rifle match:
If you cannot attend the match you can still contribute. You can visit http://grnc.org/join-grnc/contribute and join or contribute directly.
As North Carolina's most effective gun rights organization, Grass Roots North Carolina (GRNC) was created in 1994 as an independent, all-volunteer 501(c)(4) not-for-profit organization dedicated to preserving constitutional freedoms. Most – but not all – of the organization?s projects are devoted to defending the individual right to keep and bear arms. Grass Roots North Carolina is exactly what the name implies: A collection of volunteers from a broad array of backgrounds who share a common interest in defending individual liberties guaranteed by the United States Constitution and Bill of Rights. This is an important election year so GRNC could use all the help it can get. Donate your time, your money, or both!
If you have any questions about the match benefit, please contact Robert at [email protected].
IMMEDIATE ACTION REQUIRED!
About Grass Roots North Carolina:
Grass Roots North Carolina is an all-volunteer organization dedicated to preserving the freedoms guaranteed us by the Bill of Rights. Our main focus is the right to keep and bear arms. GRNC was central to drafting and passing North Carolina's concealed handgun law and since that time has continued to push for improvements to gun laws.
For more information, visit: www.grnc.org.