Leadership in conservation, communications, corporate vision awarded BHA's highest honors; new award recognizes ethical hunting and angling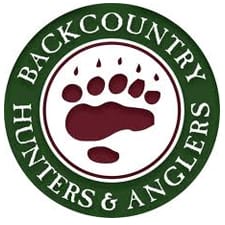 Missoula, MT -(AmmoLand.com)- At Backcountry Hunters & Anglers' 2016 North American Rendezvous, which took place April 1-3 in Missoula, Montana, six recipients were awarded BHA's most prestigious honors, recognizing exceptional efforts in conservation, communications and corporate vision.
BHA's Aldo Leopold Award is given for exceptional work and dedication to conservation and backcountry values, especially the conservation of wildlife habitat. The 2016 Leopold award was presented to BHA member Mark Heckert, of Puyallup, Washington. Frustrated by armed radicals' occupation of Malheur National Wildlife Refuge in Oregon, Heckert launched a gutsy counter protest as the face of the public lands sportsman. He was featured in a BHA video that went viral, drawing hundreds of thousands of views.
"Mark exemplifies BHA's boots-on-the-ground philosophy," said BHA President and CEO Land Tawney in presenting Heckert with the award. "Showing courage and resolve, Mark rose to the occasion and did what many Americans wanted to do: He reminded the militants in no uncertain terms that national wildlife refuges belong to all Americans. By doing so, he created a wave that was felt across the country. This award recognizes the influence of an ordinary person doing extraordinary things."
The 2016 Ted Trueblood Award, bestowed for exceptional communications work informing and inspiring people for the benefit of public lands, waters and wildlife, was given to Hal Herring, of Augusta, Montana. An award-winning journalist and contributing editor at Field & Stream, Herring has written for publications ranging from the Atlantic Monthly and the Economist to Orion and High Country News.
"Hal demonstrates unwavering commitment to investigating and writing about conservation issues that have the greatest potential to impact fish, wildlife and sportsmen," said BHA Communications Director Katie McKalip. "In an era dominated by superficial talking points and unreliable narratives, it is refreshing to read Hal's writing, which is grounded in thorough research and shows a deep appreciation of the issues at hand. We can't imagine a more deserving recipient of the BHA Ted Trueblood Award."
The Larry Fischer Award, which honors the memory and contributions of a longtime BHA board member, recognizes exceptional dedication by a business to America's backcountry values and public lands and waters. Firearms manufacturer Kimber received the 2016 award.
"Kimber's commitment to upholding values central to BHA and public lands sportsmen – including conservation of key landscapes and opportunities for citizens to access and enjoy our public lands and waters – speaks to the company's underlying philosophy and vision," said BHA member Blake Fischer. "Kimber consistently goes above and beyond in its dedication to North America's backcountry, and BHA is proud to partner with Kimber in this crucial work."
BHA's Mike Beagle-Chairman's Award is bestowed to an individual who shows outstanding effort on behalf of BHA. The 2016 recipient of the award is Alaska BHA member Mark Richards.
Beagle, a BHA founder who convened the historic meeting "around an Oregon campfire" that launched BHA a dozen years ago, presented the award.
"Mark epitomizes what BHA is all about: intimate, boots-on-the-ground understanding of the land he loves and thorough knowledge of important hunting and angling issues in his home, America's last frontier," Beagle said. "His authority is impossible to question, and he's done it all while living a subsistence lifestyle off the grid, 50 miles from the nearest town."
The Sigurd F. Olson Award recognizes outstanding effort by a BHA member in conserving rivers, lakes or wetland habitat. BHA member Mark Norquist, of Minnetonka, Minnesota, received the 2016 award. Norquist is leading the Minnesota chapter's efforts to stop sulfide mining in the Boundary Waters watershed.
"Mark Norquist has an innate passion for wildlands and wildlife and especially the Boundary Waters Canoe Area Wilderness in our home state of Minnesota," said BHA Minnesota Chapter Chair Erik Jensen. "Mark is also a filmmaker who utilizes his chosen medium to drive home the need to responsibly manage and conserve these irreplaceable lands and waters. His commitment to Minnesota's backcountry resources and to sportsmen and other recreationists will have a lasting, positive impact."
Finally, the 2016 George Bird Grinnell Award, given to a BHA chapter for outstanding group dedication and teamwork in boots-on-the-ground conservation of America's backcountry, was presented to BHA's Montana chapter, represented by chapter officers John Sullivan and Hannah Ryan, both of Missoula.
"The Montana chapter of Backcountry Hunters & Anglers reflects the core values of BHA: boots on the ground," said BHA board member Ben Long, who lives in Kalispell, Montana. "No one knows the land and water better, or is more credible when speaking out on its behalf, than our grassroots volunteers. The Montana Chapter has led the sportsmen's voice for protecting the Badger-Two Medicine area and a host of other wild lands. They are spearheading an ambitious program to protect important trout spawning streams from inappropriate motorized traffic. Their teamwork has made the Big Sky State a better place for hunters, anglers and all those who value our public lands."
At its 2016 North American Rendezvous, BHA also announced a new award, the Jim Posewitz Award for Ethical Hunting and Fishing. Open to individuals or groups, as well as those who are not BHA members, the Posewitz Award recognizes outstanding ethical behavior in the field and the education of the outdoor public on the importance of ethical behavior.
"In collaboration with Orion the Hunter's Institute, BHA is proud to announce the Jim Posewitz Award, which recognizes outstanding advancement of ethical hunting," stated Tawney. "The future of hunting depends on hunters everywhere living up to today's standards of conduct. This award not only honors Jim Posewitz, who spent his career championing wildlife, wild lands and ethical hunting; it also celebrates the values Jim embodies as an avid sportsman and tireless public lands advocate."
The 2016 BHA Rendezvous more than doubled previous records for attendance and funds raised for conservation, signaling that 2016 will continue to be marked by unprecedented growth and accomplishment for the 12-year-old sportsmen's group. More than 5,000 outdoor enthusiasts traveled from all parts of the United States and Canada to attend the annual sportsmen's gathering.
2016 Rendezvous sponsors include YETI, Leupold, Sitka, First Lite, Kimber, onXmaps, Benchmade Knives, Camp Chef, Federal Premium Ammunition, Orion the Hunter's Institute, Orion Coolers and Adipose Boatworks.
The dates and location of BHA's 2017 National Rendezvous will be announced shortly.
Backcountry Hunters & Anglers is the sportsmen's voice for our wild public lands, waters and wildlife. 
Learn more about BHA:
Visit our website.
Connect with us on Facebook.
Follow us on Twitter.
Follow us on Instagram.
About Backcountry Hunters & Anglers:
Backcountry Hunters & Anglers is The Sportsman's Voice for Our Wild Public Lands, Waters and Wildlife.
For more information, please visit www.BackcountryHunters.org.