By Jason Reid

Thinking back to this year's ATA show, I remember distinctly how busy the Black Eagle Arrows booth was each day. After talking with different members of their team and learning more about the Georgia based company, I came away thinking they took a manufacturing approach like a micro-brewery would towards beer. Detail oriented in their production to provide greater market value.
The Black Eagle Spartan hit the market this year giving loyal Black Eagle customers more of what they want and gives dedicated archers something to think about when they make choices. Now I understand why dedicated bowhunters may have a tough time switching since brand loyalty and a successful history with a particular arrow are tough to leave after many years. Bowhunting is like golf, if the gear works, there is not much of a reason to make a switch, especially since a new arrow can create some change within the setup.
One of the reasons dedicated bowhunters ought to take a closer look at the Black Eagle brand is because of the detail in which they produce their arrows.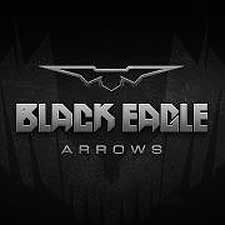 Grouped By The Dozen: Each manufacturer is different and employs their own quality assurance practices. Black Eagle takes  specific steps to ensure maximum tolerance and straightness. First, they use what they call Grouped Together Technology to spine match each dozen arrows for maximum consistency. Then, by weight sorting the high-end arrows like the Spartan together, they make sure there is only a +/- 1 grain across the entire group of 12 shafts. I can't speak for other companies, but as a bowhunter, I like to hear about the detail products are given in production.
The Black Eagle Spartan Arrows: The arrow itself comes in both a blank shaft and fletched option. If you choose the fletched option, you will have classic Blazer Vanes with a helical tilt. The arrow comes with the Black Eagle R Nock, stainless steel nock bushings and stainless steel inserts inserts. What I like specifically concerning the nock bushing and the insert is, Black Eagle tells you how many more grains these add to your arrow. If you are obsessed with arrow  weight, then you will like to know Black Eagle provides brass screw-in weights in 30 and 75 grains as an extra option. These components are stackable if you want to continue to maximize the F.O.C. of your arrow.
So what makes the Spartan really worth looking into? It was built as a combination of small and large diameter arrows for better penetration and to have the ability to use an insert for helping reinforce the broad head as it hits through big game. The outer diameter of the 400 spine arrow they sent for testing is .272" with a GPI of 7.2 and a .003-.001 straightness or straighter.
Having never shot small diameter arrows before, I was excited to try them side-by-side with my regular arrows.   The test was on to find out if these arrows would drive through a target further and the pictures speak for themselves. These pictures were taken after shots at 25 yards. Seeing these arrows provide penetrating power without broadheads notches these a few extra points in the favor department as I make my choices for the fall.
Black Eagle Spartan Arrow Flight: This is tough to really describe, but I felt like I had a better flight from these arrows than my regular arrows. Noticeably I felt the Spartans stabilized faster in flight. Now talk is cheap, I get it. Next week I'll publish a video comparing the Black Eagle Spartans in flight to what I've shot for over ten years.
Black Eagle Spartan Arrows Concerns: Overall, I really don't have much to complain about yet. However, here is my OCD kicking in. When you first glance over your new Spartan arrow, you"ll notice the insert may not be exactly flush against the field point or broadhead. Now, we are not talking a monster difference, it really is more of an opinion of ascetics and shouldn't have an impact on long shots. The insert is designed to help the broached and arrow withstand the trauma of hitting thick bone and hide.
Initial Conclusion: After a first look I would gladly recommend bowhunters take a closer look for themselves. The Black Eagle Spartan Arrows are offered in a variety of spines and diameter assortments and allow hunters to fine tune to their style of hunting.
We found the best price on the Black Eagle Spartan Arrows online at Amazon : http://tiny.cc/qh1pay ~ AmmoLand
About Jason Reid:
Jason Reid is a writer and business professional from upstate New York. After deciding to pursue his dream of becoming an outdoor writer, Jason started a blog from his dorm room at Houghton College, growing it and working hard to earn opportunities. While bowhunting big game is his ultimate passion, Jason welcomes all outdoor challenges which force him to push his limits. Jason's work can be viewed on his website Pushingthewildlimits.com