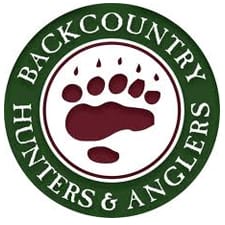 Missoula, MT -(AmmoLand.com)- In a vote earlier this morning, the U.S. Senate advanced a comprehensive energy bill that includes measures critical to public lands, fish and wildlife management and public access for hunters, anglers and other recreationists, Backcountry Hunters & Anglers announced.
In addition to making vital advancements in America's energy future, The Energy Policy Modernization Act (S.2012) permanently reauthorizes the Land and Water Conservation Fund, a popular and successful conservation program long advocated for by BHA, and allocates a percentage of LWCF funds to opening access to public lands currently unreachable by the public.
BHA President and CEO Land Tawney commended today's Senate vote.
"Public lands sportsmen and women have spoken up, loudly, clearly and consistently, in advocating for a responsive energy bill that will sustain our sporting heritage by conserving lands with high wildlife habitat value and healthy fisheries – as well as securing access for economically important activities like hunting and fishing," Tawney said. "The Senate's foresighted actions deserve to be loudly praised, not just by sportsmen but by all Americans with a stake in outdoor recreation and who appreciate the importance of our nation's public lands and waters."
The legislative package includes two amendments of special importance to sportsmen
One amendment, introduced by Sens. Lisa Murkowski and Maria Cantwell, comprises significant components of the Bipartisan Sportsmen's Act, which BHA and a host of other sportsmen's groups have been committed to for the last three congresses.
It includes the following measures:
Reauthorization of the North American Wetlands Conservation Act (NAWCA) through 2019
Reauthorization of the National Fish and Wildlife Foundation (NFWF) through 2019
Permanent reauthorization of the Federal Land Transaction Facilitation Act (FLTFA)
Establishment of the National Fish Habitat Conservation Through Partnerships Act
Establishment of the HUNT Act to identify opportunities for recreation, hunting and fishing on federal land
The Murkowski-Cantwell amendment also designates Cerro del Yuta and Rio San Antonio as wilderness within New Mexico's Rio Grande del Norte National Monument.
Another amendment, a bipartisan measure introduced by Sens. Dean Heller and Martin Heinrich, improves how wind, solar and geothermal energy are developed on public lands. Language in the amendment focuses on appropriate siting, avoiding impacts to water resources and fish and wildlife habitat, and prioritizing important natural resources investments.
Sportsmen, including BHA members, successfully united to block passage of an amendment that would have significantly altered the LWCF and limit the ability of states, local officials, federal partners and groups like BHA to enhance public access, create new recreational opportunities and conserve important fish and wildlife habitat. Introduced by Sen. James Lankford, this damaging amendment would have unraveled more than 50 years of bipartisan conservation success enabled by the LWCF.
"Our community has been steadfast in our support of permanent reauthorization of the Land and Water Conservation Fund, as well as passage of comprehensive sportsmen's legislation," Tawney concluded. "In its willingness to consider and advance this measure, Senate lawmakers have showed us that they're listening. We now urge congressional leaders to expeditiously advance this important legislative package to the president's desk."
Backcountry Hunters & Anglers is the sportsmen's voice for our wild public lands, waters and wildlife.
Learn more about BHA:
Visit our website.
Connect with us on Facebook.
Follow us on Twitter.
Follow us on Instagram.
About Backcountry Hunters & Anglers:
Backcountry Hunters & Anglers is The Sportsman's Voice for Our Wild Public Lands, Waters and Wildlife.
For more information, please visit www.BackcountryHunters.org.