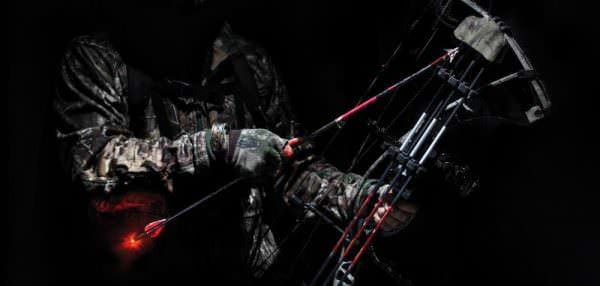 USA –  -(Ammoland.com)- If you're a bowhunter, you've probably heard the buzz about Bloodsport arrows and how they're shaking up the archery industry.
While much of the focus has been on the revolutionary Blood Ring feature, Bloodsport is quietly making the most durable and accurate shafts available, thanks to several exclusive technologies.
Bloodsport has reimagined arrow design from tip to tip, and if you're shooting anything else, you're shooting an inferior shaft.
The Blood Ring's Certain Shot Technology is likely the first Bloodsport feature that gets attention because it is visible and distinctive to their shafts. This section of special white material is engineered to aid in determining what vital organs the arrow passed through so you know how to proceed with tracking. The Blood Ring plainly shows what kind of hit was made using the age old logic of blood types. Different organs present with different blood types and colors. Bright red, red with air bubbles, dark red or greenish brown blood collects on the arrow and lets you know what move to make next.
While the Blood Ring is a distinctive and visible feature, the key to a quality carbon arrow comes down to something you don't see. All carbon arrows are made of tiny strands of carbon fiber, but only Bloodsport shafts are made with Rugged Wrap Construction. This process provides a much thicker carbon wall than competing shafts, which greatly enhances stability and durability. This proprietary wrapping sequence produces more structure to resist the higher impacts produced by today's high-performance bows. In addition, Rugged Wrap creates a more consistent spine rating, which enhances Bloodsport's next exclusive feature: Fly Straight Technology.
Fly Straight Technology ensures that Bloodsport shafts have the tightest tolerances in the archery industry. It starts by controlling the Inside Diameter (ID) coupled with tight Outside Diameter (OD) tolerances. The result provides a more defined and consistent weight and spine rating. These are the two main specifications that produce consistent shot-to-shot accuracy from one shaft to the next. A dozen BloodSport Bloodsport Arrows look the same, weigh the same and fly the same. They are the best arrows ever made.
Micro-diameter shafts have been gaining in popularity, and Bloodsport is once again leading the way in quality and innovation. In addition to Rugged Wrap Construction, Bloodsport micro-shafts are available with the R.O.C. System (Reliable Outsert Components). Bloodsport engineers developed the R.O.C. System during extensive arrow testing. Micro-diameter arrows consistently perform at the top in all categories, but they also tend to fail upon impact due to stress focused near the tip. The R.O.C. System was created to reinforce the shaft and also allow the use of standard-threaded broadheads. With the R.O.C. System, hunters can get the superior performance of micro-diameter shafts and still use their favorite broadheads.
Archery is all about choice, and Bloodsport recognizes that not all shooters want or value the same features. That's why they offer a variety of shafts with different levels of technology. Whichever Bloodsport arrow you choose, rest assured you are shooting the most accurate, consistent and durable shaft in your chosen price point.
At Bloodsport, we are committed to building the most accurate arrows in the world. While other companies count success by the number of shafts shipped out the door, we count ours one arrow at a time. After all, nothing is more important than the arrow you are about to shoot on your next hunt. All of our arrows are hand sorted and graded so that you truly get what you pay for. Great care is taken to ensure that all of our components are matched perfectly with each shaft. While the extra steps we take certainly cost us more than the other guys' mass production method, the end result is that a dozen of our arrows look the same, weigh the same, and fly the same. If we wouldn't shoot them ourselves they don't make it to the store. We make sure you can pull Bloodsport arrows out of the box and aim with confidence. Once you shoot our arrows we think you will agree that the extra effort is worth it. At Bloodsport, we aren't trying to be like the other arrow manufacturers, we are working hard to be your arrow company.
To learn more, please visit- www.bloodsportarchery.com.