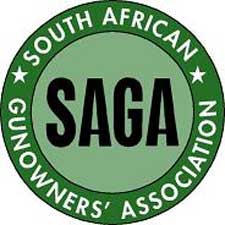 South Africa -(AmmoLand.com)- SAGA will be at HuntEx from 14 – 17 April 2016 at Gallagher Convention Centre in Midrand (19 Richards Drive, Midrand, Gauteng. GPS co-ordinates: South 26 degrees 00.065′ East 28 degrees 07.908′).
The expo offers a full immersion experience with demonstrations and informative talks by experts. On show will be the latest in hunting, sport, tactical and defensive firearms, ammunition, gear, accessories, shooting and reloading equipment, optics, hunting, outdoor and tactical garments, footwear, knives, archery, taxidermy, hunting and fishing destinations, vehicles, camping, outdoor equipment, wildlife art, and much more.
Entry costs R180 for adults on Friday and Saturday; R120.00 for the Sunday; R60 for students and children under 21; children under 10 get free entry. There is also a special 2-day pass for R180. Tickets are available online; please visit www.huntex.net for more information.
HuntEx show times are:
Thursday 14 April

– VIP Viewing –

10:00 to 17:00

(By invitation only)

Friday 15 April

–

08:00 to 18:00

Saturday 16 April

–

09:00 to 17:00

Sunday 17 April

–

09:00 to 16:00
SAGA will be positioned in Hall 2 at stand number 267. We will be processing memberships (new and renewals), we have insignia for sale, information leaflets to hand out, and a really great raffle.
Visit the SAGA stand to make sure you get your raffle ticket to win a superb Warthog V-SHARP Classic II knife sharpener valued at R550. It has two high quality, 325 grit diamond rods that sharpen the blade on both sides simultaneously using calibrated Spring Tension. Ideal for many uses, this high-quality model has a hand-crafted steel frame, solid rubber base and durable black powder-coat finish. The winner will be drawn in the afternoon on Sunday 17 April. The winner will be notified by telephone and the prize will be sent to him/her before the end of April 2016.
For information and more products please visit the Warthog Sharpeners website at: www.knifesharpners.co.za. See photo on the SAGA website at www.saga.org.za.
Note: This email is being sent to all SAGA Email Network members in South Africa in case you will be in the area at the time of the show.
Visit the HuntEx website at www.huntex.net for more information on the show.
Don't miss out – see you at the show!
About South African Gunowners' Association:
The South African Gunowners' Association (SAGA) is a non-profit, non-discriminatory organization, whose sole purpose is to represent the interests of all people who embrace the principles of safe and responsible ownership and usage of firearms for sport, recreation, hunting and self-defence.
For more information, visit:www.saga.org.za.