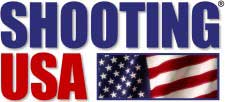 Nashville, TN -(AmmoLand.com)- NEW! Shooting USA – Fort Benning 3-Gun Match
It's the only pistol, rifle, and shotgun challenge held on an active duty Army Base. If running and gunning stage challenges is simulated combat, it doesn't get any more real than when the Army Marksmanship Unit sets up the challenges and adds in full-auto fire and Abrams Tanks! Plus the enhanced Garand, the M-14 is now one of History's Guns. And Blackhawk! Pro, Todd Jarrett shows you real world rifle training, while shooting with his rental car.
Shooting USA's Impossible Shots – Sgt. Richmond's Speed 8
US Army Marksman Josh Richmond is an Olympic competitor in Double Trap, but this week he honors one of the famous pro shooters who inspired him to take up the sport. Sergeant Richmond recreates one of Herb Parson's exhibition shots from the 1950s, eight birds from the low house as fast as they can be thrown. But then he takes it up to Impossible, shooting from the hip. Julie Golob is your host for this edition of Impossible Shots.
AIR TIMES BY TIME ZONE
The Shooting USA Hour Wednesday:
Eastern Time: 9:00PM, 12:30 AM Thursday
Central Time: 8:00 PM, 11:30 PM
Mountain Time: 7:00 PM, 10:30 PM
Pacific Time: 6:00 PM, 9:30 PM
And Saturday Night Prime Time:
Eastern Time: 12:30 AM Sunday
Central Time: 11:30 PM
Mountain Time: 10:30 PM
Pacific Time: 9:30 PM
Shooting USA is listed as a one-hour show in your cable menu.
Shooting USA's Impossible Shots:
Wednesday:
Eastern Time: 10:30 PM
Central Time: 9:30 PM
Mountain Time: 8:30 PM
Pacific Time: 7:30 PM
Return to Gunsite Academy
Later this week, John and the crew head to the original "American Pistol Institute" now known as Gunsite Academy near Phoenix, Arizona. While there, the crew will work with three top instructors from the Colt Combat Unit, to bring you the latest series of Pro Tips. Stay tuned!
Stay Connected to Shooting USA
Be sure to "Like" Shooting USA on Facebook: https://www.facebook.com/JimScoutten.ShootingUSA
And, on Instagram!
Jim
Defending the 2nd by Example in the 23rd Year
[email protected]
About Shooting USA:
Jim Scoutten, America's Most Watched Firearms Reporter, has been on the beat for 14 years, reporting the stories of the Shooting Sports and the firearms Industry. The show produces a series of popular segments focusing on historical guns, the personalities in the sport and industry, insider reports from gun tests, and practical tips from shooting sports pros. The show appeals to shooting sports enthusiasts of all ages and skill levels by providing practical tips on safely handling, modifying and repairing their favorite guns.
For more information, please visit www.ShootingUSA.com.