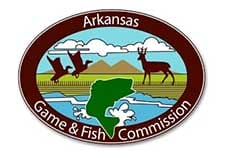 Cushman, AR -(AmmoLand.com)- About six inches separated one turkey hunter from a possible hunting-related shooting April 16 in a northeast Arkansas pasture.
Cpl. Ryan Nast, an AGFC wildlife officer in Batesville received a phone call from a hunter whose son had nearly been shot by someone illegally using a rifle to try to kill a turkey.
According to Nast, the man and his son were set up on the edge of a cow pasture with decoys set 25 yards in front of them. At about 6:30 a.m., a silver truck drove slowly down the farm road near them and stopped about 150 yards away. The driver fired a rifle at the decoys with a .30-06 rifle. The bullet went through the fan of the decoy, which was directly in line with the hunters at the edge of the field.
"The juvenile said the bullet hit the ground so close to him that dirt from its impact sprayed over his left shoulder and chest," Nast said.
The two hunters immediately started shouting and waving their arms to try and prevent any more rounds from being fired. They recognized the truck and called the stop poaching hotline to report the incident.
After visiting the site where the incident occurred, Cpl. Nast and fellow AGFC officer Cpl. Ron Davidson drove to the suspect's house to ask him a few questions.
"When I approached the suspect, he already knew why I was there," Nast said. "He started to get choked up about the incident. He said he didn't know anyone else would be on the property and really thought the decoy was a real turkey."
Nast said this is a very clear-cut case of why some hunting regulations are in place. Turkey hunters wear camouflage from head-to-toe and settle down within 30 to 40 yards of a lifelike decoy. They're trying to fool the sharp eyes of a turkey to get it within shotgun range, so fooling a hunter from 100 yards is not too difficult.
Turkeys may only be hunted in Arkansas with archery equipment and shotguns 10 gauge and smaller using no. 2 and smaller shot. The restriction on modern rifles and muzzleloading rifles is in place specifically to prevent incidents such as this.
Nast says there's no way to prevent someone from breaking the law and inadvertently putting you in danger, but it's helpful to know who else may be hunting the property you're on and talking with them about when and where you may be while you're out in the woods.
The firearm used was seized as evidence, and the suspect was cited for hunter endangerment, hunting from a moving, motorized land vehicle and firearms restrictions for wild turkey.
"This was a real eye-opener for everyone involved," Nast said. "And a lesson for everyone about how easily something that's supposed to be fun can turn tragic if you don't follow the rules."
About Arkansas Game and Fish Commission:
The Arkansas Game and Fish Commission plays an important role in keeping The Natural State true to its name. During the last 100 years, the agency has overseen the protection, conservation and preservation of various species of fish and wildlife in Arkansas. This is done through habitat management, fish stocking, hunting and fishing regulations, and a host of other programs.
For more information, visit www.agfc.com.