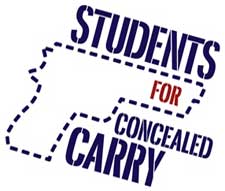 Austin, TX -(AmmoLand.com)- The same pseudo-journalist who repeated conspiracy theories about SCC's founding and funding, without  noting that those theories originated with a national gun-control conglomerate, is back at it with an article that, beginning with the headline itself, is nothing but a straw man argument.
In his Newsweek article inaccurately titled "Campus carry advocates suggest gun might have prevented University of Texas murder," Max Kutner makes no attempt to craft anything but a hit piece as he purports to analyze SCC's official statement on the recent murder at the University of Texas at Austin.
For six days following the first news of this tragic crime, Students for Concealed Carry declined media requests for comment and refrained from issuing a press release on the matter. Only once the basic facts of the crime were known and the UT community had had an opportunity to grieve did SCC issue a public statement acknowledging that this senseless murder serves as a painful reminder that college campuses are not immune to violent crime.
In issuing that statement, SCC took care to avoid naming either the victim or the suspected perpetrator and to refrain from saying anything that might be perceived as unsubstantiated speculation as to contributing factors or circumstances under which the outcome might have been different.
The statement released by SCC is not about the specifics of this crime or its victim; therefore, how the victim or her family might have felt about campus carry has little bearing on the matter. We do not suggest that the victim should have been carrying a gun or even—given her young age—that she should have had the option to carry a gun. Furthermore, we do not postulate that the outcome of this crime would have been different if the victim had been carrying a gun. Our only objective in referencing this crime is to acknowledge the reality that violent crimes do occur on college campuses. That fact does not change based on someone's personal feelings about campus carry.
An academic community should understand better than any other that educated decisions must be informed by factual evidence. It is unrealistic to think that a murder on a college campus will not be cited in a debate about whether or not people need the ability to defend themselves on college campuses.  Just as an advocate for school bus safety can cite a tragic school bus accident without crassly politicizing the incident, proponents of campus carry can cite an on-campus murder without crassly politicizing that incident.
Short of completely ignoring a crime that goes to the heart of our organization's mission, we at SCC did everything in our power to be respectful of the victim, the victim's family, and the UT community.
We are completely comfortable with the actions we took, and we can only hope that the individuals and organizations who choose to criticize those actions do so out of grief and not out of a cynical desire to effect their own political ends.
About Students for Concealed Carry:
Students for Concealed Carry (SCC) is a national, non-partisan, grassroots organization comprising college students, faculty, staff, and concerned citizens who believe that holders of state-issued concealed handgun licenses should be allowed the same measure of personal protection on college campuses that current laws afford them virtually everywhere else. SCC is not affiliated with the NRA or any other organization. For more information on the debate over campus carry in Texas, visit WhyCampusCarry.com.
For more information on SCC, visit ConcealedCampus.org or Facebook.com/ConcealedCampus.