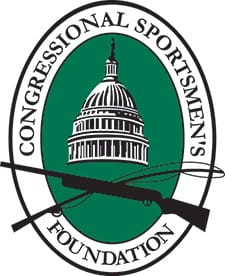 Washington, DC -(AmmoLand.com)- After five years and multiple attempts to pass a comprehensive sportsmen's package of legislation through the U.S. Senate, a bipartisan amendment containing many provisions of great importance to the hunting and fishing conservation community was adopted with a vote of 97-0 under the Natural Resources Title of the Energy Policy Modernization Act (S. 2012).
Many of the provisions within this amendment are also included in the Bipartisan Sportsmen's Act (S. 405), and are supported by most of the nation's top conservation organizations.
Among other pro-sportsmen's policies included, the bill will: expand and enhance hunting, fishing, and recreational shooting opportunities on Federal land; exempt non-commercial news gathering on public lands from commercial fees; allow for the transportation of bows across National Parks; include expansion and construction of public shooting ranges under the Pittman-Robertson Wildlife Restoration Act; and reauthorize the North American Wetlands Conservation Act.
 "There's no question that America's sportsmen and women deserve greater access to our public lands. With the Senate's approval of my broad, bipartisan energy bill, fishermen, hunters, recreational shooters and other outdoor enthusiasts are now significantly closer to that goal," said Senator Lisa Murkowski (AK), Congressional Sportsmen's Caucus (CSC) Member and Chairwoman of the Senate Energy and Natural Resources Committee. "This a big step forward to allowing long-held traditions to be passed down from generation to generation without the federal government getting in the way."

"The Sportsmen's Act has been a long time in the making, and I'm proud to lead this bipartisan effort alongside Energy and Natural Resources Committee Chairman Lisa Murkowski of Alaska. After previous attempts stalled on sportsmen's bills in recent years, the Energy and Natural Resources Committee worked hard to find areas of agreement, and we didn't allow controversial amendments from either side of the aisle to derail our effort," said CSC Member Senator Martin Heinrich (NM). "[This bill] will also go a long way toward solving many of the problems hunters and anglers face in accessing and using our nation's public lands. I am hopeful that, thanks to our vote today, our kids and grandkids will be catching trout and chasing mule deer for many years to come."

"Thanks to the persistence and leadership of the bipartisan CSC, we are closer than ever to enacting comprehensive sportsmen's legislation," said Congressional Sportsmen's Foundation (CSF) President Jeff Crane. "CSF will continue to work with the CSC to finish this legislative process."
With the inclusion of many important priorities, this bill would advance hunting and fishing traditions across the country for millions of sportsmen and women. S. 2012 was passed out of the Senate with a bipartisan final vote of 85-12.
About CSF:
Since 1989 the Congressional Sportsmen's Foundation (CSF) has maintained a singleness of purpose that has guided the organization to become the most respected and trusted sportsmen's organization in the political arena. CSF's mission is to work with Congress, governors, and state legislatures to protect and advance hunting, angling, recreational shooting, and trapping. The unique and collective force of the Congressional Sportsmen's Caucus (CSC), the Governors Sportsmen's Caucus (GSC) and the National Assembly of Sportsmen's Caucuses (NASC), working closely with CSF, and with the support of major hunting, angling, recreational shooting, and trapping organizations, serves as an unprecedented network of pro-sportsmen elected officials that advance the interests of America's hunters and anglers.
For more information, visit: www.sportsmenslink.org.