By Mike Searson
Spartan Enyo Fixed Blade Fighting Neck Knife, review and test.

United States -(AmmoLand.com)- Folding pocket knives have come a long way over the past thirty years.
Better materials, improved locking mechanisms and fast opening features have slowly but surely pushed fixed bladed knives to the side. Yet there is still a demand for quality fixed blades that can be carried on the belt or around the neck that won't make you look like you're saddling up for a Mountain Man Rendezvous.
Spartan Enyo Fixed Blade Fighting Neck Knife
Such is the case with Spartan Blades and their Enyo model; a design by Curtis Iovito and Mark Carey. The name of this knife, Enyo, is for the female companion to the god of war, Ares, in Greek mythology.  At first glance the Enyo appears to be a simple one-piece neck knife, but it is actually a whole lot more.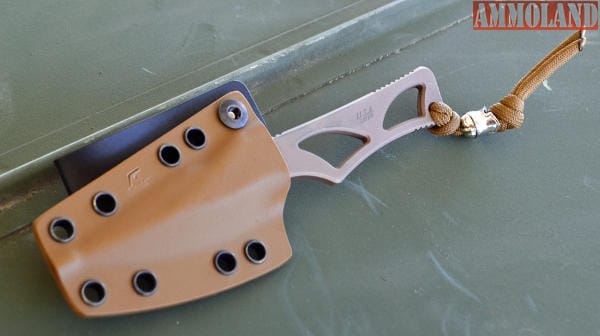 The blade is 2. 75″ long with an overall length of 6.25″ and is ground from Crucible's Stainless CPM S35VN Steel hardened to RC 58-59. For added protection and to make the blade non-reflective, the knife is coated in Sparta Coat. This is a physical vapor deposition process of tungsten carbide DLC (Diamond like Coating). Mine was in a Flat Dark Earth color but it also comes in the more popular Black Tungsten.
Out of the box, the edge is shaving sharp and the profile of the blade is almost like a harpoon due to the swedge ground on the top. The knife is finished off with an iconic Spartan Helmet shaped pewter bead tied in paracord to the handle. The cut outs in the handle are reminiscent of the eye holes in what most of us think a Spartan helmet would look like based on modern pop cultural references as opposed to the actual history.
The thumb ramp behind the blade has traction grooves cut into it as does the top and bottom of the rear of the handle. At first I did not get these, as the knife was a bit small for my XXL size hands to hold in a decent reverse grip, but when actually using the knife to cut in the forward position, I found them extremely helpful providing an extra bit of grip to the base of my thumb and forefinger.
Ergonomically, it is easy to fall in love with this little knife; it looks good, feels perfect in the hand and performs well. Except that there is more to the Spartan Enyo Fixed Blade Fighting Neck Knife than just the blade.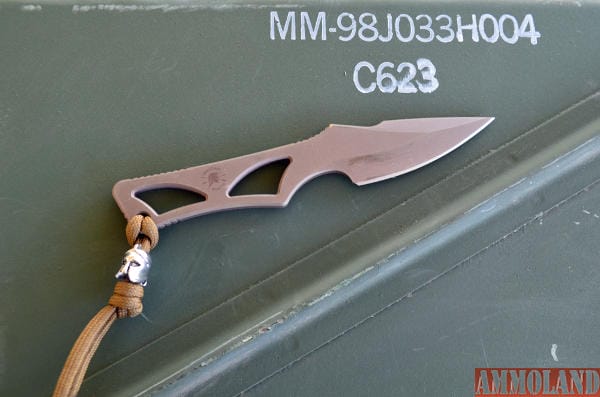 It comes with a tan Kydex sheath system. The design of the sheath allows the user to add a beaded chain or piece of paracord to wear around the neck, a rubber IWB (Inside Waist Band) loop or Tek-Lok for belt, MOLLE or vest carry.
Best of all, the Enyo comes with a lifetime warranty. Spartan offers a 10% lower for military and law enforcement customers including active duty, reserve, NG, LEOs, EMT/Fire and contracted federal security personnel.
The Spartan Enyo Fixed Blade Fighting Neck Knife is definitely our favorite fixed-blade in the neck knife variety and you can order it online at Amazon of all places: http://tiny.cc/kuvlay
Visit www.spartanbladesusa.com for more details.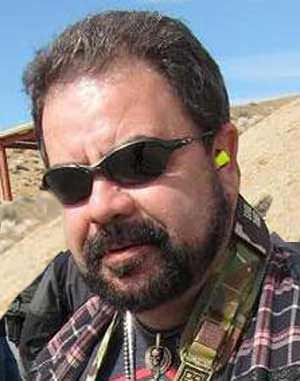 About Mike Searson:
Mike Searson's career as a shooter began as a Marine Rifleman at age 17. He has worked in the firearms industry his entire adult life as a Gunsmith, Ballistician, Consultant, Salesman, Author and was first certified to teach firearms safety in 1989.
Mike has written over 2000 articles for a number of magazines, websites and newsletters including Blade, RECOIL, OFF-GRID, Tactical Officer, SWAT, Tactical World, Gun Digest, Examiner.com and the US Concealed Carry Association as well as AmmoLand Shooting Sports News.