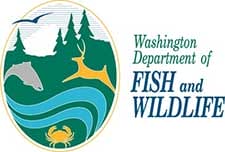 Olympia, WA -(AmmoLand.com)- They look like weasels, prey on porcupines, and vanished from Washington state's forest lands more than 70 years ago.
But now the fisher, a stocky woodland mammal the size of a large house cat, is making a comeback. With the support of private forest landowners, federal agencies, and conservation organizations, the Washington Department of Fish and Wildlife (WDFW) is leading an effort to reestablish the reclusive species in its native habitat.
Since 2008, WDFW and its partners have relocated a total of 113 fishers from British Columbia to federal forestlands in Olympic National Park and, more recently, the southern Cascade Mountains.
State biologists confirmed the first sighting of newborn fishers in Olympic National Park in 2009, a year after releasing the first group of 18 transplants. Using radio collars, remote cameras and DNA analysis, state biologists have documented at least two generations of descendants from the 90 fishers relocated to the park during a three-year period ending in 2010.
Last winter, the department expanded its reintroduction efforts to the southern Cascades with the release of 23 fishers south of Mount Rainier. The reintroduction plan calls for releasing a total of 160 fishers throughout the Cascade Range by 2018.
Penny Becker, WDFW wildlife diversity division manager, said the department is currently conducting aerial surveys to monitor the recent transplants, which were fitted with radio transmitters prior to their release.
"We know the fisher population in the Olympic National Park is reproducing and expanding geographically," Becker said. "We have high hopes for the new group in the south Cascades, and this is our first opportunity to see how they're doing."
The U.S. Fish and Wildlife Service (USFWS) recently praised fisher conservation programs in Washington, Oregon and California after a year-long review to determine whether fisher populations in those states should be listed as "threatened" under the federal Endangered Species Act (ESA).
On April 14, USFWS announced that such a listing is "not necessary at this time," partly due to "proactive fisher conservation measures" such as Washington's fisher reintroduction program.
USFWS also endorsed Washington's leadership in sponsoring voluntary programs that provide an incentive for forest landowners to work as partners in the recovery effort. Under a federal program called "Candidate Conservation Agreements with Assurances" (CCAA), landowners who adopt specified conservation measures will not be subject to any additional land restrictions if fishers are ever listed for protection under the ESA.
Those measures can involve assisting WDFW in reporting and monitoring fishers on their property, protecting fisher den sites, and removing potential hazards to denning females, Becker said.
"While many fishers will remain in the national parks and national forests where they are released, these agreements provide protection for any that may move onto private lands," she said.
Since April 1, when WDFW received federal authorization to offer those agreements, the department has enrolled 32 forest landowners and 1.7 million acres under the CCAA. Many other landowners have contacted the department to express interest in the program, said Gary Bell, a WDFW wildlife biologist who administers the program.
"These agreements are available only until such time as a species is listed under the ESA," Bell said. "The USFWS did not list the fisher this time, but that doesn't rule out the possibility of a federal listing in the future. We're hearing from a lot of landowners who want to make sure they don't miss out on enrolling in this program."
Nationwide, the fisher's range was dramatically reduced throughout the early 1900s by trapping, predator control, and habitat loss. In Washington state, the fisher was listed as an endangered species in 1998 under state law, which prohibits harming or harassing the species.
More information about Washington fishers and the CCAA program is available at http://wdfw.wa.gov/conservation/fisher/.
About WDFW:
WDFW is dedicated to preserving, protecting and perpetuating the state's fish and wildlife resources. The department operates under a dual mandate from the Washington Legislature to: Protect and enhance fish and wildlife and their habitats. Provide sustainable, fish- and wildlife-related recreational and commercial opportunities.
For more information. visit: www.wdfw.wa.gov.