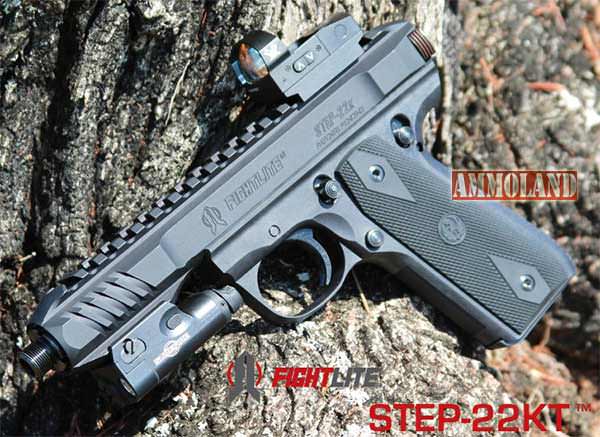 Melbourne, FL – FightLite Industries, a special products division of ARES Defense Systems, Inc. announces their new patent-pending ARES Defense-FightLite STEP-22KT Pistol (Strategic Target Engagement Pistol, Compact-Threaded).
The ARES Defense-FightLite STEP-22KT Pistol is an accurate, rugged, lightweight and reliable monolithic pistol receiver chambered in .22LR and features a tensioned target barrel with an industry standard ½ x 28" TPI threaded muzzle for the mounting of silencers, muzzle brakes and other muzzle devices. The STEP-22KT ™ also includes MIL-STD-1913 Rails at the 6 and 12 o'clock positions for mounting lights, lasers, optics and other accessories.
ARES Defense-FightLite STEP-22KT Pistol
Designed primarily for civilian shooters; the STEP-22KT is optimized with features to deliver accuracy and reliable performance! The tensioned target barrel chambered in .22 LR "Bentz" dampens accuracy degrading harmonics typically associated with lightweight barrels for excellent and repetitive shot placement. And the patent-pending STEP-22KT™ monolithic receiver ensures that there are no sight rails or tubes to loosen during firing.
All STEP-22 models are designed to readily interchange with the standard pistol receiver on popular RUGER® Mk-I®, Mk-II®, Mk-III® and 22/45® pistols without any tools or gunsmithing required, providing users with a lightweight pistol capable of accommodating lasers, lights, optics and accessories on monolithic rails that won't loosen during use.
Installation of any FightLite STEP-22 monolithic receiver on a RUGER Mk-I®, Mk-II®, Mk-III® or 22/45 pistol is easy and straightforward. Simply follow the unloading and disassembly instructions specified in the RUGER® manual for your pistol. Once disassembled, set your RUGER upper receiver aside and reassemble your pistol with the FightLite STEP-22™ monolithic receiver assembly using the original RUGER bolt and trigger housing from your pistol. It's that simple!
MSRP is $379 and FightLite® Industries is accepting orders which will be available to ship to customers as early as July 1, 2016.
To handle the ARES Defense-FightLite STEP-22KT Pistol and other ARES Defense and FightLite® Industries products, please visit the ARES Defense/FightLite® Industries booth #4808 at the NRA Annual Meetings May 20-22, 2016 in Louisville, Kentucky or at booth 748 of the SOFIC Convention May 24-26.
ARES Defense Distributors:
Ellett Brothers
Amchar Wholesale
RSR Group
About FightLite Industries
FightLite Industries is a special products division of ARES Defense Systems, Inc. Since its founding in 1997, ARES Defense Systems has focused on the development of military small arms and accessories of unique versatility, innovation and exceptional quality for military, law enforcement and commercial customers.  Engineered and manufactured with the highest quality American-made materials, ARES products are produced on state-of-the-art CNC machining centers in an ultra modern facility by a highly skilled workforce.  
Headquartered on the USA's Space Coast, ARES' intense dedication to mission critical innovation has resulted in numerous patented advancements resulting in lighter, stronger, better performing weapons and accessories for the operator. To learn more about FightLite® Industries visit www.FightLite.com.  Follow FightLite Industries on Facebook at facebook.com/FightLite  and on Twitter @FightLite. To learn more about ARES Defense Systems visit www.aresdefense.com.  Follow ARES Defense on Facebook at facebook.com/aresdefense  and on Twitter @ARESDefense.
Notice: FightLite® is a registered trademark of ARES Defense Systems, Inc. RUGER®, Mk-I®, Mk-II®, Mk-III® and 22/45® are registered trademarks of Sturm, Ruger & Co. Accessories shown such as 22/45® grip frame and parts, optics and laser light are not included with product purchase.