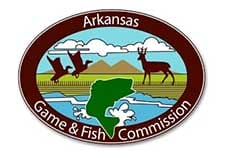 Little Rock, AR -(AmmoLand.com)- The Arkansas Game and Fish Commission heard the first proposals from wildlife management staff on potential regulations concerning deer hunting and management of chronic wasting disease in Arkansas at the May 19 Commission meeting.
A public comment form is available at www.agfc.com to gather public input on the following CWD-related proposals.
Allow deer and elk hunting with the use of bait Oct. 1-Dec. 31, statewide.
Prohibit the feeding of wildlife statewide, with exceptions for bird feeders and other types of feeding that do not concentrate deer.
Prohibit the use of scents and lures that contain natural cervid urine, effective Jan. 1, 2017.
Prohibit the rehabilitation of deer statewide.
Establish a CWD management zone in counties with known positives and those close to known positives.
Establish a private land CWD management program in the CWD management zone to allow landowners to take additional deer off their property to reduce deer density and slow the spread of the disease.
Prohibit the transport of certain portions of cervid carcasses outside the CWD management zone. This will allow only deboned meat, cleaned skull plates, hides, teeth and taxidermy products to be transported out of the CWD management zone.
Allow button bucks to be checked as antlerless deer in deer zones and WMAs within the CWD management zone,
Remove the three-point rule and increase the bag limit from four to five deer and the antlerless bag limit to three with firearms in deer zones 1 and 2.
Liberalize deer season on Bearcat Hollow, Buffalo National River, Gene Rush, Ozark National Forest, Piney Creeks, Sweden Creek Natural Area and White Rock WMAs.
Establish a core elk management zone of Boone, Carroll, Madison, Newton and Searcy counties, and allow hunters to harvest any elk found outside these counties during deer season.
Require all elk harvested to be submitted for CWD testing.
Increase the private land antlerless elk quota in the core elk management zone from 24 to 40.
Create a non-commercial hunting enclosure permit for high-fenced facilities, and require those facilities to submit CWD samples for all deer that die within the respective facility, allow annual inspections, and maintain accurate deer harvest records. There would also be a moratorium on the issuance of new permits after July 1, 2017.
All CWD-related proposals will be voted on in June, and Commissioners stressed that altering these proposals is still likely.
"We have more people coming in to talk with us at our June meeting, and there is a stronger than normal possibility that the regulations we finally vote on will be different than those presented today," said Commission Chairman Emon Mahony. "Everyone has done a superb job of getting us where we are today as quickly as they have, and I appreciate all those efforts."
Steve Cook, chairman of the regulations committee, stressed the importance of public understanding during what is to be a long fight to monitor and manage for CWD for decades to come.
"One thing we know is we will not be successful without the support of deer hunters and the general public," Cook said. "If we fail to develop and implement an effective control program, we risk the future of deer hunting along with all of the social and economic benefits wild deer and elk provide to the people."
About Arkansas Game and Fish Commission:
The Arkansas Game and Fish Commission plays an important role in keeping The Natural State true to its name. During the last 100 years, the agency has overseen the protection, conservation and preservation of various species of fish and wildlife in Arkansas. This is done through habitat management, fish stocking, hunting and fishing regulations, and a host of other programs.
For more information, visit www.agfc.com.