Manufacturer to Highlight and Sell New and Popular Items at Annual Show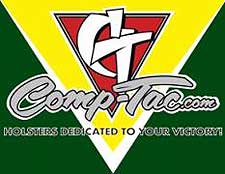 Houston, TX – Comp-Tac Victory Gear, a leading manufacturer of quality holsters and holster accessories, has announced that they will be selling several new and favorite products at their booth (#5953) at the 2016 NRA Annual Meetings, held May 20-22nd, at the Kentucky Exposition Center in Louisville, KY.
Introduced in December, Comp-Tac's Q Line of holsters are modular and easy-to-use, addressing shooter's needs for storage, range use and concealed carry. Each of the models (Q-H, Q-I, Q-B) maintains the high-quality construction and materials expected from Comp-Tac's products.
The Q Line of holsters are designed for individuals both new to handguns, as well as those looking for a versatile solution, providing simplicity and value for their daily carry. Offering a more modular design, each holster allows for a variety of gun model fits, with no interchangeable shells or clips required. As is the case with all of COMP-TAC's holsters, each of the models in the Q Line provide Retention Adjustment for a secure fit, and are molded with Kydex bodies (best materials for smooth no-stick draw). The durable yet gentle mounting options are built strong enough to withstand wear and tear, all while protecting belts, clothing and car seats.
Comp-Tac's Founder and President, Gregg Garrett will also be on hand throughout the show. Garrett, who began Comp-Tac in his garage in 2000, has grown the company to be one of the most trusted holster manufacturers in both competition and every day carry situations. Attendees will be able to meet the man behind the holsters at Comp-Tac's booth each day.
In addition to the new products, Comp-Tac will also have several of their favorite and popular holster models for sale, sizing and testing. The following are a few of the models you can expect to see: MTAC, International, Infidel Ultra Max, Infidel Max, Flatline, Cavalry, Single Magazine Pouch, Gun Belts and more. All products will be offered at a 15% discount and customers who purchase $100 or more will receive a free T-shirt.
Comp-Tac's own Competitive Shooting Champion, Randi Rogers will also be at the booth during the show. She will be signing autographs, posing for pictures and answering questions for anyone who stops by!
About Comp-Tac Victory Gear, LLC
Comp-Tac Victory Gear, LLC combines experience in personal protection and the tactical applications combined with the love of pistol shooting competitions into every product they develop. Comp-Tac strives to deliver high value, quality solutions and improvements at the best price. With satisfaction a top priority, we ensure speed, quality and superior customer service to support your desire to take responsibility for personal safety, security and recreational firearm use.