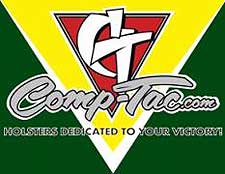 Houston, TX  -(AmmoLand.com)- Team Comp-Tac's Gordon Carrell has extended his winning streak by finishing division champion of the Enhanced Service Pistol Division at the 2016 Comp-Tac Republic of Texas IDPA State Championship this May 13-14 in Bellville, Texas.
With a final time of 219.86 Carrell finished top ESP as well as High Industry.
"I am honored that I was able to walk away with my 14th Texas title in a row. Back in 2003 I attended my first Texas Regional and every year since have been able to top out in either ESP or SSP. It's also a great feeling to 'produce' for not only one of your sponsors, but your employer as well," explained Gordon Carrell who in addition to be the general manager of Comp-Tac is supported by Apex Tactical Specialties, Armadillo Concealment, Smith and Wesson and Warren Tactical Sights.
As the title sponsor of the championship, Comp-Tac's staff participation extended beyond the competition itself.
"The Republic of Texas means a lot to us as a Texas-based company. This match is one of the events that we look forward to most each year because of the unique opportunity we have to interact with the end users. Walking around pasting targets, shooting the match and vending allow us to ask questions on competition equipment as well as concealed carry gear. These are the times that are most valuable to us and why we always look forward to helping out our fellow shooters," commented Gregg Garrett president and owner of Comp-Tac.
Team Comp-Tac member Randi Rogers also brought home 2nd overall in the Stock Service Pistol Division and High Lady.
Next up for Team Comp-Tac, Garrett, Carrell and Rogers will be at the 2016 NRA Annual Meetings in Louisville, KY, May 20th-22nd.
For more information on Team Comp-Tac, and the full line of Comp-Tac Victory Gear holsters and accessories, visit www.Comp-Tac.com, like Comp-Tac on Facebook at www.facebook.com/CompTac, or follow @CompTac on Twitter.
About Comp-Tac Victory Gear, LLC:
Comp-Tac Victory Gear, LLC combines experience in personal protection and the tactical applications combined with the love of pistol shooting competitions into every product they develop. Comp-Tac strives to deliver high value, quality solutions and improvements at the best price.  With satisfaction a top priority, we ensure speed, quality and superior customer service to support your desire to take responsibility for personal safety, security and recreational firearm use.
For more information, visit: www.comp-tac.com.