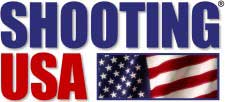 Nashville, TN -(AmmoLand.com)- Shooting USA – Smith & Wesson IDPA Back Up Gun Nationals
It's the match limited to the guns people actually carry, 5-shot revolvers and small autoloaders. The defensive scenarios are creative and challenging on the S&W Indoor Ranges in Massachusetts. And it's the best possible practice for a real-life emergency. Plus, the 1873 Single Action Army is one of History's Guns. And Colt re–launches the company and the new guns now focused on serving civilian customers.   
Shooting USA's Impossible Shots – George the Card Cutter
George Sutton chooses the most common target for exhibition shooters – Playing Cards.  Mr. Flintlock says they're handy, you can carry them in your pocket in case you need to perform a trick shot at the Supermarket. Then Micah McMillan chooses the next most common target – Golf Balls, but this time he's intentionally missing with his shotgun and that turns out to be an Impossible Shot.  Julie Golob hosts this edition of Impossible Shots.
AIR TIMES BY TIME ZONE
The Shooting USA Hour Wednesday:
Eastern Time: 9:00PM, 12:30 AM Thursday
Central Time: 8:00 PM, 11:30 PM
Mountain Time: 7:00 PM, 10:30 PM
Pacific Time: 6:00 PM, 9:30 PM
And Saturday Night Prime Time:
Eastern Time: 12:30 AM Sunday
Central Time: 11:30 PM
Mountain Time: 10:30 PM
Pacific Time: 9:30 PM
Shooting USA is listed as a one-hour show in your cable menu.
Shooting USA's Impossible Shots:
Wednesday:
Eastern Time: 10:30 PM
Central Time: 9:30 PM
Mountain Time: 8:30 PM
Pacific Time: 7:30 PM
New Format at Bianchi Cup
It's the most prestigious and richest shooting tournament in the world, and it's changing. NRA Bianchi Cup competitors will still shoot the four main courses of fire, but the top 16 competitors will shoot them again in the Championship Round to determine the winner. Our crew will be there to cover the action in Columbia, Missouri. Stay tuned for live coverage on social media, and on TV in the coming weeks!
Lessons from the Pros
Three days of handgun training in Las Vegas with Max Michel means the Pro Shooter Experience is here! A couple dozen people from across the world are signed up to take in the lessons and fun from Max, Travis Tomasie and JJ Racaza. We'll find out what the Pro Shooter Experience is all about. Stay tuned!
Stay Connected to Shooting USA
Be sure to "Like" Shooting USA on Facebook: https://www.facebook.com/JimScoutten.ShootingUSA
And, on Instagram!
Jim
Defending the 2nd by Example in the 23rd Year
[email protected]
About Shooting USA:
Jim Scoutten, America's Most Watched Firearms Reporter, has been on the beat for 14 years, reporting the stories of the Shooting Sports and the firearms Industry. The show produces a series of popular segments focusing on historical guns, the personalities in the sport and industry, insider reports from gun tests, and practical tips from shooting sports pros. The show appeals to shooting sports enthusiasts of all ages and skill levels by providing practical tips on safely handling, modifying and repairing their favorite guns.
For more information, please visit www.ShootingUSA.com.