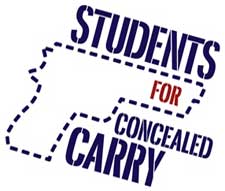 AUSTIN, TX – Students for Concealed Carry reached out to four highly qualified, well-regarded firearms instructors, to get their opinions on the University of Texas at Austin campus carry policy requiring every semiautomatic handgun to be carried with an unloaded chamber.
Although SCC has written extensively about this issue, there is no substitute for the opinion of an undisputed expert.
The Experts
T.J. Pilling is the owner and operator of the Tiger Valley firearms training facility in Garland, Texas. Tiger Valley is a professional training provider for local, state, and federal police; private security contractors; and civilian shooters.
Their customers include the Texas Commission on Law Enforcement, the Dallas Police Department, the Waco Police Department, the Baylor University Police Department, the Garland Police Department, the Richardson Police Department, the Plano Police Department, the Houston Police Department, the Round Rock Police Department, Lockheed Martin, and Triple Canopy. Pilling has more than 28 years' experience as a police officer, including managing a police academy firearms training program, working as an undercover narcotics officer, and 23 years as a SWAT marksman. His résumé can be viewed at http://www.tigervalley.com/pdf/resume.pdf.
Karl Rehn is the owner and lead firearms and tactics instructor at KR Training, located an hour east of Austin. Rehn describes himself as, "a UT graduate, former UT employee, and Austin-area firearms instructor who has trained UT staff, faculty, and students, as well as members of Austin PD, Travis County Sheriff's Office, and the UT ROTC program over the past 25 years." His bio can be viewed at http://www.krtraining.com/newinst/karlbio.html.
Bill Rogers is the owner and director of the Rogers Shooting School in Ellijay, Georgia. The Rogers Shooting School primarily instructs military and SWAT units but also offers a limited number of classes for civilians/non-police. Rogers is a former FBI agent with over 40 years of firearms instruction experience. Rogers developed many of the holsters and equipment currently used by police and military. The equipment, training techniques, and training videos developed by Rogers are used worldwide. Information on Bill Rogers and the Rogers Shooting School can be found at http://www.rogersshootingschool.com/info.php.
John Farnam, the president of Defense Training International in Ft. Collins, Colorado, is widely considered to be one of the fathers of modern firearms training. He has personally trained thousands of federal, state, and local law enforcement personnel, as well as non-police, in the use of firearms. He has authored four books on the subject. Information on Defense Training International can be found at http://defense-training.com/about/. More of Farnam's extensive résumé can be viewed at http://www.worldblackbelt.com/who-s-who/living-legends/139-john-s-farnam. A 2012 interview with Farnam can be read at http://www.gdiengineering.com/wordpress/2012/06/26/an-interview-with-renowned-firearms-instructor-john-farnam.
The Experts' Assessment
Veteran SWAT officer T.J. Pilling notes, "The problem with [the UT-Austin campus carry working group's] recommendation #3, which requires students to carry the weapon without a round in the chamber, is that most accidental discharges happen during loading and unloading the weapon."
UT Alumnus Karl Rehn concurs, stating, "In the most likely scenario, those that want to carry at UT are going to arrive on campus with a round chambered and will have to handle their gun, most likely in the awkward, cramped space inside their vehicle, to un-chamber the round and reholster before leaving the vehicle. That's a far more likely scenario for a negligent discharge than someone simply unholstering and putting the gun in a storage locker—and the working group has already rejected that idea as 'too dangerous.'"

Pilling continues, "Like the law or not, if statistically you are implementing a carry technique that has the highest potential for negligent discharge, I believe you are setting the campus up for failure. A student coming and going from the campus will constantly be clearing and loading the weapon, which leads to another problem. Since you're requiring them to unload the weapon, are you going to designate a clearing area with a clearing drum? If you don't, I can expect a certain amount of liability since industry standards require police, military, and State Department contractors to have a clearing barrel in areas they are instructed to have a 'clear' weapon.

"When dealing with CHL holders, most larger police agencies determined that unless the person had a criminal offense or the agency had reasonable suspicion that the person carrying the weapon was a risk to the officer, themselves, or someone else, it was far safer to leave the weapon on the person and not risk the person or the officer discharging the weapon."

Rehn expands on this point by explaining the dangers of expecting campus police to verify that the chamber of a lawfully concealed handgun is unloaded (the only reasonable way to enforce such a policy): "Police officers are not trained in the parts and operation of every firearm make and model. Having a police officer handle an unfamiliar gun puts the public at a higher risk of negligent discharge than if the permit holders do the handling, since [the permit holder has] demonstrated familiarity with their own gun during the license to carry training. But the safest policy is to have neither of them handle the gun on campus at all."

These concerns are echoed by former FBI agent Bill Rogers, who states, "This proposed rule does not address the fact that most accidents with pistols happen when loading and unloading the firearm." Rogers also notes the difficult position this policy places license to carry (LTC) holders in, stating, "To cause someone to load a semiautomatic pistol during a life-threatening confrontation will eliminate the possibility of someone being able to defend themselves during many scenarios. Confrontations with civilians and predators happen in close proximity, when time is critical and the use of both hands are not always available."

Firearms training pioneer John Farnam explains, "Who promised you that both of your hands will be available the next time you need your pistol? A pistol is an item of emergency/safety equipment. We carry pistols for unexpected threats. You may be pushing your children behind cover with one hand while trying to draw your pistol with the other, all at the same time. You might find an attacker on top of you, doing his best to stick a screwdriver into your eye. As you fend off the screwdriver with one hand and draw your pistol with the other, how will you then persuade it to fire?"

Rehn adds, "I've taken more than 2000 hours of firearms training. In all those courses the instructors advised against carrying a handgun with an empty chamber [emphasis in the original]. Whether the audience is armed citizens or law enforcement officers, empty chamber carry is discouraged because the gun is only going to be used in a last-resort, time-critical situation where the burden of additional time and complex gun manipulations adds risk and decreases the likelihood of a successful defensive gun use. If the attacker is at close range, the additional time and movement is sufficient to provide the attacker the opportunity to take control of the gun, which could be deadly for the permit holder and others."

Farnam breaks down the issue thusly: "Modern pistols are always carried, in modern holsters, fully loaded…The vast majority of modern, autoloading pistols and revolvers are designed and manufactured to be mechanically 'drop-safe.' That is, no external blow to the pistol, no matter the severity, will cause it to discharge. Putting continuous pressure on the trigger is the sole method for persuading these weapons to fire. Thus, carried with an empty chamber, most modern autoloading pistols and revolvers are not one bit 'safer' than if a live round were in the chamber, but they are a good deal less useful."

T.J. Pilling concludes by suggesting, "I think a better policy is to make sure that the weapon never leaves the holster unless deadly force is required. Suspend, expel, whatever it takes to make sure [students] understand that deploying a weapon unnecessarily has consequences."

Karl Rehn concurs, writing, "Recommendation #3 from the recent working group report, requiring those carrying on campus to carry without a round chambered, is a dangerously flawed, unenforceable idea and should not be implemented."
Bill Rogers and John Farnam, the two firearms training legends, are a bit more blunt in their assessments.
Rogers writes, "The proposed rule of carrying the pistol unloaded is stupid and dangerous."

Farnam states, "The empty-chamber-carry method provides the user with no safety advantage, but it makes the pistol a good deal less useful." He concludes, "Those who don't carry loaded pistols needn't bother carrying at all."
SCC's Response
In light of such testimony, there is little chance that a Texas court of law will find UT-Austin's empty-chamber policy to be "reasonable," per the requirements of Texas Senate Bill 11. There is, however, an excellent chance that this poorly conceived policy, along with the university's equally ill-advised gun-free-offices policy, will persuade the Texas Legislature to revisit this issue in 2017.
SCC Southwest Regional Director Antonia Okafor, commented, "The UT-Austin officials who opted for a politically expedient policy over the policy recommended by the experts have surrendered any claim to the moral high ground. It is clear that they care more about the appearance of safety than about the actual safety of faculty, staff, and students."
ABOUT STUDENTS FOR CONCEALED CARRY — Students for Concealed Carry (SCC) is a national, non-partisan, grassroots organization comprising college students, faculty, staff, and concerned citizens who believe that holders of state-issued concealed handgun licenses should be allowed the same measure of personal protection on college campuses that current laws afford them virtually everywhere else. SCC is not affiliated with the NRA or any other organization. For more information on SCC, visit ConcealedCampus.org or Facebook.com/ConcealedCampus. For more information on the debate over campus carry in Texas, visit WhyCampusCarry.com.