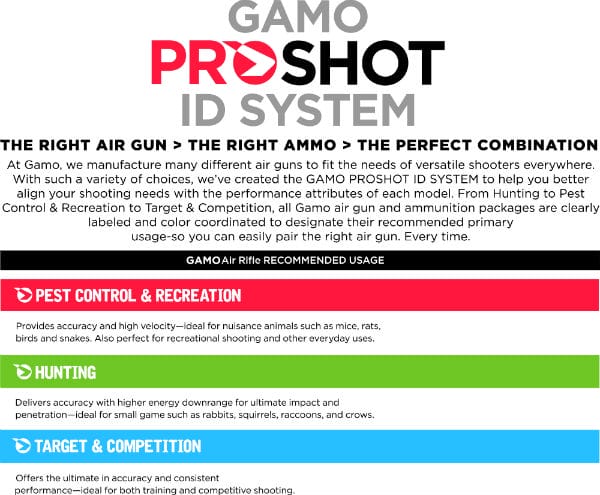 Fort Lauderdale, FL -(AmmoLand.com)- Gamo Outdoor USA, the leading manufacturer of high quality air guns, optics and laser designators announces their new PROSHOT ID System.
Gamo manufacturers many different air guns so they developed a new system that aligns the right air gun with the right ammunition, providing the perfect combination in all shooting applications. Each air gun is designed differently to perform various tasks and ammunition is developed in the same manner.
Gamo has removed the element of miss-matching ammunition with air guns in order for customers to extract the highest level of performance from their air gun of choice. From hunting to pest control and recreation to target and competition, all Gamo air gun and ammunition packages are clearly labeled and color coordinated to designate their recommended primary usage for quick and easy pairing.
Pest Control & Recreation: Provides accuracy and high velocity – ideal for nuisance animals such as mice, rats, birds and snakes. Also perfect for recreational shooting and other everyday uses.
Hunting: Delivers accuracy with higher energy downrange for ultimate impact and penetration – ideal for small game such as rabbits, squirrels, raccoons and crows.
Target & Competition: Offers the ultimate in accuracy and consistent performance – ideal for both training and competitive shooting.
To stay updated on the latest and greatest from Gamo Outdoor USA please follow us on:
Gamo Outdoor USA:
Gamo Outdoor USA is a leading consumer products company that designs, manufactures and markets a diverse portfolio of outdoor sporting goods products under such world class brands as GAMO, BSA Optics, Laser Genetics, Aftermath, and is the exclusive distributor of BSA Guns and Joker Knives.
For more information visit: www.GamoOutdoorUSA.com.