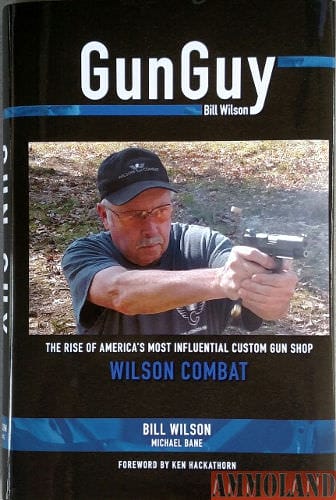 Berryville, AR -(AmmoLand.com)- This is the story of Bill Wilson and his passion for life in the gun culture, and of his world famous company WILSON COMBAT.
Bill is, what many people refer to as, a "self made man". Starting out from humble beginnings in the small town of Berryville, in northwest Arkansas, he has taken his passion for firearms and shooting and turned it into a successful competition shooting career and business. Beginning with a keen interest in guns, Bill has been eating and sleeping gun stuff since the 1960s. He is one of the rare breed called "GUN GUYS" and this is his personal journey and that of WILSON COMBAT, the premier custom gun company in America.
Also included are educational chapters, from Bill, with useful information on firearm selection, improving shooting skills, firearm maintenance and handloading ammunition. Additionally, photo chapters showcasing pistols built by the early pioneers of custom 1911s and unique deluxe pistols created by Wilson Combat are included.
This unique book is a combination of educational material as well as Bill's personal biography and the history of Wilson Combat.
Chapters:
1 The Early Years Pg 1
2 The Drive to Excel in Competition Shooting Pg 12
3 Watchmaker or Gunsmith? Pg 35
4 Couldn't Have Done It Without Them Pg 54
5 The Need for Parts Pg 64
6 The Complete Wilson Combat Pistol Pg 80
7 Life Beyond the 1911 Pg 95
8 Wilson Combat Today (2016) Pg 121
9 The Second Generation – Ryan Takes the Helm Pg 145
10 Blessed with a Wonderful Family Pg 154
11 IDPA – Putting the 'P' Back in 'Practical' Pg 173
12 Bill's Favorite Guns Pg 197
13 A Passion for Hunting Pg 226
14 Still Shooting After All These Years Pg 252
15 Finally A Texan Pg 261
16 Firearm Maintenance Bill's Way Pg 272
17 Handloader, not Re-loader Pg 289
18 Bill's Favorite Handgun Training Drills Pg 296
19 Bill's Buds Pg 314
20 Guns of the Past Masters Pg 338
21 Wilson Combat Unique and Deluxe Pistols Pg 358
Features:
6″ x 9″ Hard cover 4 color with dust jacket
386 pages
390 photos
$34.95
GUN GUY
Bill Wilson
Authors: Bill Wilson with Michael Bane
Forward by Ken Hackathorn
Introduction by Michael Bane
AVAILABLE FOR PREORDER direct from http://www.shopwilsoncombat.com.
About Wilson Combat:
For over 30 years, Wilson Combat has been the leading innovator in high-performance, custom firearms and accessories. A Wilson Combat product's unmatched level of exceptional reliability and peerless craftsmanship is only equaled by our best-in-class customer service.
For more information, visit: www.WilsonCombat.com.