By Mike Searson
Live fire gun review of the Hi-Point 45 ACP Carbine with the desert digital camo stock, model 4595TS DD.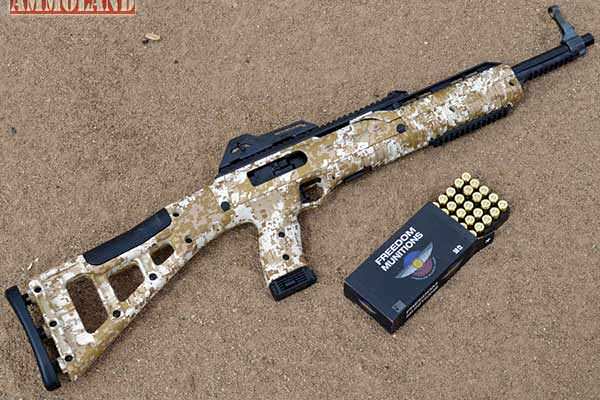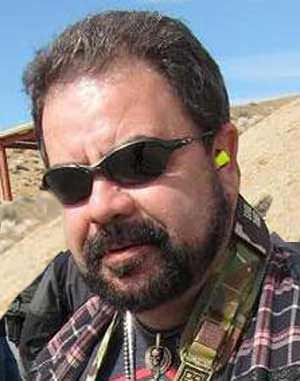 USA –  -(Ammoland.com)- Pistol caliber carbines are one of those firearm types that shooters either love or hate.
Detractors scoff at the thought of firing a pistol cartridge from a rifle, holding that a rifle should be chambered in a rifle round. Adherents hold that it is a stop gap measure delivering superb ballistics over a pistol and improving accuracy.
Hi-Point's 45 ACP Carbine is a design that most shooters seem to love. Our first exposure to the Hi-Point carbine was nearly 20 years ago in California.
A private agency tasked with teaching police cadets had a dilemma with regard to rifle training. None of the principals were active duty law enforcement and could not get an exception to train with what California and the Federal Government at the time considered an "Assault Weapon". Furthermore the agency was in a start-up mode and could not afford the neutered alternatives.
They went with the Hi-Point carbine in 9mm. Curious as to its performance, when we asked them how they ran; they said that they were very impressed. We shot one on the range and felt it had potential, but never got around to picking one up.
Hi-Point 45 ACP Carbine in Camo
MKS Supply changed that by sending us a Hi-Point 45 ACP Carbine in Camo, model 4595 DSD. This is a carbine chambered in 45 ACP finished in a Digital Desert Camo scheme. We wanted to give this carbine a good work out. Since it wasn't a personally owned piece, but a loaner, we did not run it over with a HUMMVEE, drop it out of a helicopter, set it on fire or use it to batter down doors.
Instead our good friends at Freedom Munitions sent us 500 rounds so we could shoot the hell out of it.
Hi-Point 45 ACP Carbine in Camo : The Good
Just like their pistol the Hi Point JHP 45 ACP Handgun, we fired at least 50 mags full of ammo through this carbine without a single hiccup. We rung steel at 50 yards with it and achieved single hole groups at 50 feet.
At first the camo paint job made us chuckle, but it grew on us as did the performance of the carbine. Another bonus is that the carbine has plenty of rail space if you wish to add lights, lasers, fore grips, etc.
The carbine runs the same magazines as the JHP-45 pistol, so if you own the pistol, you can interchange the magazines.
Action is blowback and that is good enough for all of our favorite Gen-2 Subguns so it works well here. There is a recoil buffer inside the stock that is said to aid in recoil reduction, too.
The factory ghost ring sights are adjustable and highly usable. They may look a little fragile at first, but we found them to be very robust.
Hi-Point 45 ACP Carbine in Camo : The Bad
Even though magazines are available, they are a single-stack, 9-round type. This is ok, but it is no longer 1994. We have seen an extended magazine available within the past several weeks, but have yet to try it.
Disassembly looks like rocket surgery. There are clips holding pins and it does not conform to our comfort zone. On loaner guns that have to go back (or get shipped out to a winner in one of AmmoLand's giveaways!) we prefer to keep them free of our exploratory investigations that conjure up profanities instilled by over 4 decades as a native New Yorker, Marine, construction worker, bouncer and being of Irish descent when they need to go back together!
The rails are the Weaver type and suspect there may be problems attaching certain accessories that are designed for Mil-Spec Picatinny systems. Removal of the factory rear sight does not look like a fun way to spend a Sunday afternoon, either.
Lastly is the weight, which is fine for keeping down recoil and if you walk 50 feet from your car to the firing line: not a big deal. If we had to walk 10 or more miles with this, we would prefer a better caliber.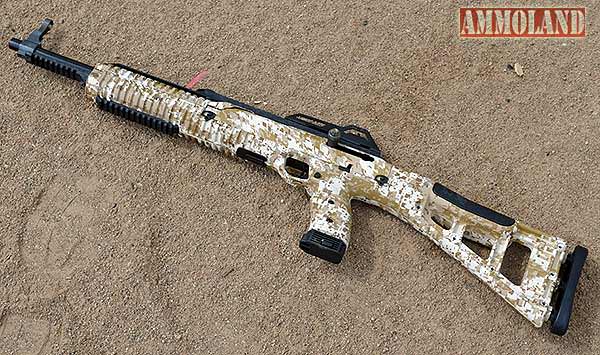 Hi-Point 45 ACP Carbine in Camo : The Reality
Shooters looking for a good quality and highly reliable carbine in 45 ACP will find a lot to like about Hi Point's 4595 DSD. There are a small number of law enforcement agencies using these carbines (or the 40 S&W or 9mm equivalents) for situations that require more accuracy than a handgun without the hazards of using rifle calibers or shotgun loads, like taking down a drug lab with potential chemical and fire hazards.
We would like to see a slightly higher-end version with true Picatinny rails, a threaded barrel for use with a silencer and perhaps a staggered double-stack magazine that takes Glock 21 magazines. However, the company has a successful formula in what they are producing and probably sees no need to change what is obviously a winning solution for them.
Hi-Point 45 ACP Carbine in Camo :
Barrel length: 16.5″
Overall length: 31″
Weight: 6.25 lbs.
Capacity: 9-shot

MSRP: $392 !!!
About Mike Searson
Mike Searson's career as a shooter began as a Marine Rifleman at age 17. He has worked in the firearms industry his entire adult life as a Gunsmith, Ballistician, Consultant, Salesman, Author and was first certified to teach firearms safety in 1989.
Mike has written over 2000 articles for a number of magazines, websites and newsletters including Blade, RECOIL, OFF-GRID, Tactical Officer, SWAT, Tactical World, Gun Digest, Examiner.com and the US Concealed Carry Association as well as AmmoLand Shooting Sports News.
Home page: www.mikesearson.com
FB: www.facebook.com/mike.searson
TWITTER: www.twitter.com/mikesearson