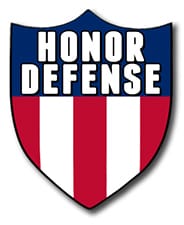 Atlanta, GA -(AmmoLand.com)- Honor Defense pistols have now been approved for back-up carry by Inspectors of the Santa Cruz County District Attorney's Office – Bureau of Investigations.
In conjunction with T and L Tactical of Fresno, California, the Santa Cruz Officers gave the Honor Defense pistols a thorough going over, performing a myriad of accuracy and function tests.
Members of the Santa Cruz Firearms Training Unit noted that they were most impressed with the ergonomics and the reduced recoil.
They compared them with other compact 9MM models they also tested and commented, "The rod/recoil spring combo are top notch."

One Examiner added, "The other thing I will also praise is the accuracy. No matter what ammunition we ran thru both Honor Defense models, we got super tight groups–especially for a 3.2-inch barrel."

"Everyone at Honor Defense is very proud that Investigators of the Santa Cruz DA's Office can now carry our handguns," said Gary Ramey, President of Honor Defense. "We designed these All-American handguns to be used in real-world situations. The Santa Cruz District Attorney's Firearms Training Unit testing has demonstrated the accuracy, comfort and reliability of our pistols."
HONOR GUARD 9mm Features:
Striker-fired design that can handle +P loads
Trigger has a crisp 7lb pull
Custom texture design to provide better grip in all situations
Custom serrations over the top of Slide for easier racking
Ambidextrous slide catch and magazine catch
Modular system with stainless steel chassis
Replaceable back straps to allow for custom grip
Orange dot sight to improve target acquisition
Sight design allows racking with sights for one-handed racking
For more information, visit their Facebook page or website at www.honordefense.com.
For more information on T AND L Tactical, visit their Facebook page or website at www.tandltactical.com/about/.
About Honor Defense:
Honor Defense offers the finest American-made pistols-using only American partners and materials. Honor Defense pistols are built with more features and higher quality standards than other pistols in their size range. To create its pistols, Honor Defense secured input from a panel of professionals that have defended our nation or have extensive credentials in self-defense training.
For more information, please visit www.HonorDefense.com.