Popular merchandise line celebrates outdoor lifestyle, raises funds for backcountry conservation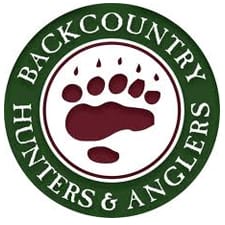 Missoula, MT -(AmmoLand.com)- Demand for the newest t-shirt design by Hunt To Eat, the hunter-branded clothing company, is soaring, and backcountry conservation is benefiting as a result.
The Backcountry Hunters & Anglers-Hunt To Eat partnership launched formally earlier this year. Hunt To Eat wanted to support BHA, but its conservation budget is slim. Inspired by BHA's work, the company developed the "Hunt. Fish. Protect." design, with the proceeds going to BHA. Since its release at BHA's annual North American Rendezvous, the shirt has been a top seller.
BHA is enthusiastic about the partnership with Hunt To Eat and the company's commitment to conserving, accessing and enjoying backcountry lands and waters in North America.
"We are proud to partner up with Hunt To Eat," said BHA president and CEO Land Tawney. "The Putelis brothers created a fantastic t-shirt design that calls folks to action. I can't thank them enough for creating a cool shirt, awareness for our growing organization, and money to protect and enhance our backcountry hunting and fishing opportunities."
Hunt To Eat co-founders, brothers Janis and Mahting Putelis, cite the backcountry landscapes of southwest Michigan, where they were raised, and public lands-heavy states such as Colorado and Montana as inspiration for their designs. They also emphasize the company's support of backcountry conservation and its commitment to BHA.
"By purchasing this shirt, you are helping ensure that you – and your descendants – have public lands for future recreation," said Janis Putelis. "Hunt To Eat wants to give back. We want to reinforce our outdoor heritage. And we want to safeguard our outdoor legacy. 'Hunt. Fish. Protect.' is our way of accomplishing this. To me, the popularity of the BHA-inspired design shows how appreciative folks are of the landscapes on which we recreate."
Hunt To Eat has a large and rapidly expanding fan base, including writer Steven Rinella, host of the Sportsman Channel's "MeatEater."
"I love Janis Putelis like a brother, but he's no Donald Trump," said Rinella. "This poor guy is giving away all the damn money from these shirts! The only plausible explanation is that he loves wilderness more than fame and fortune, which truly sets him apart. Long live the partnership between Hunt To Eat and BHA! They are gonna work together to set this world straight."
Learn more about Hunt to Eat and check out some cool t-shirts and gear.
Backcountry Hunters & Anglers is the sportsmen's voice for our wild public lands, waters and wildlife. 
Learn more about BHA:
Visit our website.
Connect with us on Facebook.
Follow us on Twitter.
Follow us on Instagram.
About Backcountry Hunters & Anglers:
Formed around an Oregon campfire in 2004, BHA is the sportsmen's voice for our nation's wild public lands, waters and wildlife. With members in all 50 states and Canada, 18 state-based chapters and a chapter in British Columbia, BHA brings an authentic, informed, boots-on-the-ground voice to the conservation of public lands.
For more information, please visit www.BackcountryHunters.org.