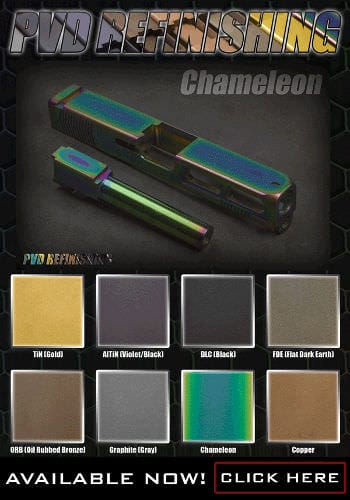 Priest River, ID -(AmmoLand.com)- Lone Wolf Distributors is now proud to offer an extended line of high performance PVD coatings!
If you are looking for a high performance coating for your slide or barrel, look no further than one of our beautiful PVD selections. Physical Vapor Deposition is a process often used to provide hardness and abrasion resistance to machine parts and cutting tools to achieve maximum efficiency. Due to the micro substrates used, the process does not add any perceivable build up to the medium it's being applied to. This makes PVD coatings perfect for application to moving components such as firearm slides and barrels.
The average micro hardness of PVD coatings go well over 80 on the Rockwell hardness scale, but does not effect the characteristics of the steel beneath. This provides excellent abrasion resistance and a lowered coefficient of friction, which means less resistance and heat buildup. Apply these characteristics to the already stellar performance of the 416R Stainless Steel that's used in our Lone Wolf slides and barrels, and now you have the ultimate combination of high performance and high-speed looks!
Check them out! Click Here.
About Lone Wolf Distributors:
Lone Wolf Distributors is the World's Largest Distributor Of Glock Accessories.
For more information, please visit www.LoneWolfDist.com.