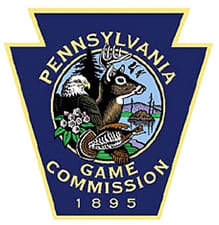 BOLIVAR – -(Ammoland.com)- The Pennsylvania Game Commission Southwest Region is announcing a rehabilitated immature bald eagle will be released back into the wild on Thursday, May 12 2016 at 10 a.m.
The eagle was recovered Aug. 7, 2015 on First Energy Corp. property near Georgetown, Beaver County, by Wildlife Conservation Officer (WCO) Matt Kramer. After many months of extensive treatment and rehabilitation, the bird is ready to be released.
The remarkable story behind this majestic bird's recovery is a perfect example of the partnerships that the Pennsylvania Game Commission relies on to accomplish its mission of managing and protecting the Commonwealth's wildlife resources. Without the assistance of the private entities involved, this bird would not have survived.
On August 7, 2015, Beaver County Wildlife Conservation Officer Matt Kramer responded to a call from First Energy Corporation employees about an injured eagle they had located on First Energy property near Georgetown. WCO Kramer was able to capture the bird, which was unable to fly due to an obviously injured right wing. WCO Kramer transported the injured bird to the Animal Rescue League's Wildlife Center—a state licensed wildlife rehabilitation facility in Verona, Allegheny County.
injuries were so severe as to be beyond the capabilities of their staff and facility, the Wildlife Center staff arranged for treatment and transported the bird to Animal Clinic Northview, Inc. in North Ridgeville, Ohio. Northview veterinarian Dr. Jamie Lindstrom, who specializes in avian medicine and surgery, operated on the eagle on August 11, 2015 and successfully repaired the fracture with the placement of two pins in the wing bones.
After surgical recovery and several follow-up checks by Wildlife Center staff and Dr. Lindstrom, in September 2015, the eagle was transferred to Tamarack Wildlife Rehabilitation and Education Center in Saegertown, PA. Tamarack specializes in the rehabilitation of large birds of prey like bald eagles. Tamarack's facility includes a flight pen where this eagle regained its strength and relearned how to fly.
Thanks to the cooperation of all these people; from the First Energy Corp. employees that cared enough to call, to the many wildlife specialists and experts that worked tirelessly on his recovery, this eagle is now ready to be released back into the wild.
The release will occur at 348 Raccoon Creek Road, Monaca, PA 15061
GPS Location: 40.643524, -80.339211
Information: Due to damage to the roadway, signs are posted for a road closure in this area. THIS WILL NOT IMPACT YOUR ABILILTY TO ACCESS THE RELEASE SITE IF YOU ENTER FROM STATE ROUTE 18.
Staff from Animal Rescue League's Wildlife Center, Tamarack Wildlife Rehabilitation and Education Center and the Game Commission will be on hand to answer questions. The eagle will be released in an area approximately 4 miles from its original capture location and should afford good photographic/video opportunities.
PLEASE NOTE: This release will be weather dependent. If the forecast calls for inclement weather Thursday morning, the release may be postponed.