Shoot Like a Girl is proud to welcome Weatherby Inc. and looks forward to seeing the positive impact this partnership has on new women shooters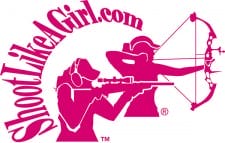 Athens, AL -(AmmoLand.com)- Shoot Like A Girl's state-of-the-art, 52-foot mobile range showcased a new logo on their trailer this year at the NRA Annual Meeting, Weatherby Inc. has signed on as a corporate sponsor with the company.
Weatherby Inc., a name long established in the firearm industry, is highly regarded as a leader and Shoot Like A Girl is honored to add them to their great team of Corporate Partners.
"With the increasing number of women hunting and shooting it was important to us to help meet the needs of this growing population," says Director of People & Culture, Brenda Weatherby. "Partnering with Shoot Like A Girl is an honor considering we share the same passion and commitment."
With the benefits each corporation brings with their own individual expertise, this collaboration stands to garner even more successes for the companies and the industry as a whole.
"Weatherby is known for designing great rifles, and this year as they launch their newest rifle, the Vanguard Camilla, a rifle designed by women for women, couldn't be a better time to add them to our elite list of corporate partners. All of our partners enable Shoot Like A Girl to travel around the country and empower women to participate in shooting sports. We simply could not do this without their support, and we are thankful that Weatherby has joined the team," says owner and founder, Karen Butler.
Shoot Like a Girl featured the new Weatherby Vanguard Camilla at their Trailer during the NRA Annual Meeting May 19th-22nd, 2016.. The Camilla is designed specifically for women by a select team of women hunters and shooters. It is built on the best selling Vanguard platform. Available in 223 Rem., 243 Win., 308 Win., and 7MM-08 Rem.
Shoot Like A Girl has earned a reputation as a company with one of the largest positive impacts on the expansion of the firearms industry. They are growing the number of women who participate in shooting sports. Shoot Like A Girl produces remarkable results, 70% women who shoot in the trailer will commit to buying a gun.
They look forward to celebrating their newest partner, Weatherby, and are confident that together, both will have an even greater impact on the progression of shooting sports and the achievements of women within them.
About Shoot Like A Girl:
Shoot Like A Girl (SLG2, Inc.) is a company dedicated to growing the number of women in shooting sports by empowering them to participate with confidence. Instructors introduce women to multi-disciplined shooting experiences in their revolutionary 52' mobile trailer range, where women participate in a program called Test Shots and Test Flights. Ladies shoot a 9mm pistol, .223 rifle and/or compound bows in a safe, controlled environment in a short amount of time with qualified women instructors. Shoot Like A Girl's Corporate Partners are: Rocky Mountain Elk Foundation, 3M Peltor, Hunter Safety System, Bear Archery, Beretta, BowTech, Cabela's, Charter Arms, Colt, Danner, Federal Premium Ammunition, Game Plan Gear, GLOCK, Inc, Hogue, Hoyt, Leupold, Neet Archery Products, Mathews Inc, Mossy Oak, Nikon, Rock River Arms, Ruger, ScentBlocker, Smith and Wesson, S & S Outdoors, Taurus, ThermaCell, Trijicon, TRUGLO, PSE, Women's Outdoor News, Upper Canyon Outfitters, and ASA.
To learn more about SLG2, visit Shoot Like A Girl online, or visit at Facebook and Twitter.