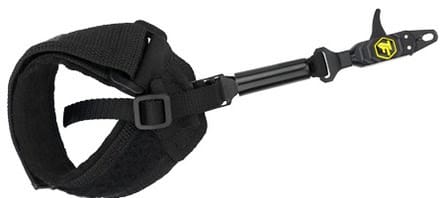 SUPERIOR, Wis. – -(Ammoland.com)- Tru-Fire, the leading archery release brand, has introduced the Patriot Flex, an update of the inexpensive and proven Patriot release. Retaining the Patriot's nylon webbing wrist strap with a hook-and-loop style closure system, the Patriot Flex has an updated head that's thinner and narrower than the original.
The Patriot Flex's new aluminum-alloy head features a newly designed trigger with machined and hardened steel components. It is adjustable for travel and is exceptionally responsive, yet its dual-caliper string release has increased holding strength.
The Patriot Flex head is attached to the wrist strap by 1/2-inch nylon webbing with a steel buckle as well as a nylon buckle, which allow for generous and precise adjustment. The head can also be oriented for either right- or left-handed users. The webbing is contained in a protective rubber Flex Tube that provides rigidity and helps the archer find the head in the hand intuitively, so it is always at the ready for the moment of truth. The Flex Tube can be cut to the archer's desired length.
The attractively priced Tru-Fire Patriot Flex release is currently available at retailers nationwide or conveniently online at www.trufire.com for a suggested retail price of $29.99.
Headquartered in Superior, Wis., Tru-Fire is the world's largest manufacturer of bowhunting releases. The products are proudly made in the U.S.A. The company is a wholly owned subsidiary of Feradyne Outdoors, LLC. For more information on the company or its products, write to: Tru-Fire, 101 Main Street, Superior, WI 54880; call 866-387-9307; or visit www.trufire.com. Like us on Facebook at www.facebook.com/TruFire.