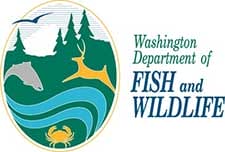 OLYMPIA, WA –  -(Ammoland.com)- Starting June 1 2016, the Washington Department of Fish and Wildlife (WDFW) will restrict target-shooting hours in the Wenas Wildlife Area southwest of Ellensburg to help reduce the risk of wildfires.
The restriction, which will be in effect through Sept. 30 216, will limit target shooting to the hours between sunrise and 10 a.m., when the risk of starting a wildfire is less severe.
Cindi Confer Morris, manager of the WDFW wildlife area, said bullets have sparked more than a dozen fires at Wenas in recent years, including one that torched 9,000 acres.
In response, the department has restricted target shooting every summer since 2012, and closed the wildlife area to all shooting in 2014 and 2015 due to extreme fire danger.
"Unfortunately, we could be facing severe fire conditions again this summer," Confer Morris said. "The vegetation grew like crazy in early spring, and now it's drying out and curing in the warm weather that has followed."
Public notice of the limited hours will be posted at all entry points and at established target shooting sites in the wildlife area.
State land managers ask that all visitors to the wildlife area – whether target-shooting or not – take precautions to avoid sparking a wildfire. Information about local fire danger is available at https://fortress.wa.gov/dnr/protection/firedanger/
WDFW adopted the rule in cooperation with the Washington Department of Natural Resources (DNR), which owns lands within the 114,150-acre wildlife area.
In April, WDFW held public meetings in Ellensburg and Selah to discuss target-shooting options for the Wenas Wildlife Area. The department's preferred alternative would permanently restrict target shooting to two designated sites to reduce the risk of wildfire, increase public safety and protect wildlife habitat.
Alternatives are posted at http://wdfw.wa.gov/lands/wildlife_areas/wenas/. Comments can be addressed to [email protected]
Campfire restrictions are also in place at the Wenas, Colockum, L.T. Murray, Oak Creek and Sunnyside-Snake River wildlife areas through Oct. 15, and at the Columbia Basin Wildlife Area through Oct. 31. Fireworks and incendiary devices – including tracer rounds and exploding targets – are also prohibited to reduce wildfire risks.
For more information on WDFW wildlife areas, see the department's website at http://wdfw.wa.gov/lands/wildlife_areas/
Persons with disabilities who need to receive this information in an alternative format or who need reasonable accommodations to participate in WDFW-sponsored public meetings or other activities may contact Dolores Noyes by phone (360-902-2349), TTY (360-902-2207), or email ([email protected]). For more information, see http://wdfw.wa.gov/accessibility/reasonable_request.html.