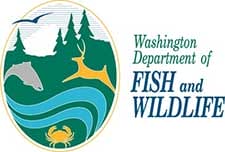 Olympia, WA -(AmmoLand.com)- The Washington Department of Fish and Wildlife (WDFW) is accepting letters of interest through June 17 for membership on its Waterfowl Advisory Group.
The group, which represents a wide range of stakeholders throughout the state, advises the department on issues such as hunting regulations, hunter access, and conservation projects funded by sale of duck stamps.
WDFW Director Jim Unsworth will appoint up to 20 members for the group. Members will be appointed to three-year terms beginning July 1. The department is looking for candidates with varied backgrounds who can effectively present their views on waterfowl management to WDFW and the public.
"The department carefully considers applications received for advisory groups," said Don Kraege, WDFW waterfowl section manager. "We value the experience that longstanding members bring to the table, but we also want advisory groups to represent a wide diversity of interests with regard to wildlife management across the state."
Applications must be submitted in writing and include the following information:
Applicant's name, address, telephone number, and email address.
Relevant experience and reasons for wanting to serve as a member of the advisory group.
Waterfowlers the applicant represents.
Examples or evidence of the applicant's effectiveness in communication.
Applications can be submitted to Don Kraege by mail to Washington Department of Fish and Wildlife, 600 Capitol Way N, Olympia, WA 98501-1091, or by email at [email protected] For more information, contact Don Kraege at (360) 902-2522.
The Waterfowl Advisory Group holds at least one single day meeting each year. Members serve as volunteers and do not receive direct compensation, but are eligible to be reimbursed by WDFW for travel expenses to attend meetings.
About WDFW:
WDFW is dedicated to preserving, protecting and perpetuating the state's fish and wildlife resources. The department operates under a dual mandate from the Washington Legislature to: Protect and enhance fish and wildlife and their habitats. Provide sustainable, fish- and wildlife-related recreational and commercial opportunities.
For more information. visit: www.wdfw.wa.gov.