By Nathan S.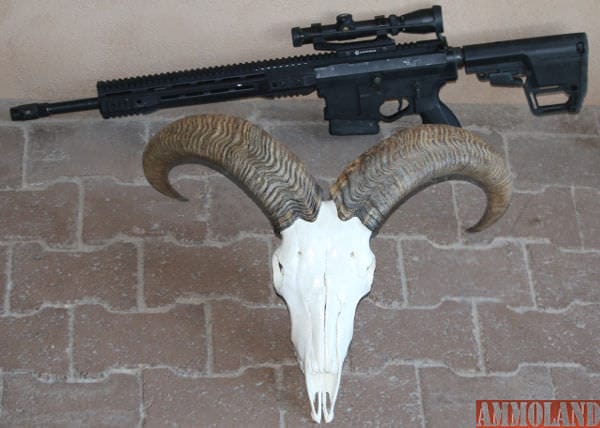 USA –  -(Ammoland.com)- Thumper is my pride and joy, and now one of my all-time favorite rifles, named on its maiden hunt: an over-the-counter NM Black Bear license (I had to hunt something in 2015!)
The average black bear harvested in NM is between 150-225 lbs. I was over-gunned on this hunt. In dramatic fashion I witnessed Thumper earning its name.
Thumper started as a Christmas gift in 2014 when my brother gave me a stripped X-10 AR-10 receiver from VDC Armory LLC, and said we would build it however I wanted and with whatever parts I wanted to put on it. (Full disclosure – he owns VDC Armory and designs custom AR Rifles).
I thought on it a while and researched a caliber I thought would be something different and fun. I decided on building it as a .338 Federal. I called him up and told him my plan. There was a long pause on the other end. When he spoke he asked me if I was sure that could be put into an AR-10 platform and he would ask the Gun Smith details about that caliber.
They had not yet built anything chambered in .338 Federal, and why the heck did I want that? Well, just prepping for a dream if I ever make it to Alaska hunting.
After a couple months of casual searching I found an in-stock quality 18" .338 Federal barrel from JP Enterprise.
My brother called in a favor to Witt Machine & Tool and had a custom sized muzzle break (their Muzzle Rise Eliminator – MRE) made to fit the barrel.
We decided on a 15" Slim Quad style hand guard and Mission First Tactical furniture.
Soon Thumper was born (they use in-house "Birth Certificates" to describe a custom build. So it's only natural to say Thumper was born.)
Next we discussed what hunting optic I needed. It is clear that the .338 Federal caliber is NOT a long distance caliber, so a high powered optic would probably be a waste of effort and money.
As my brother describes this caliber: "…within 400 yards its Thor's Hammer. After that it is like calling in artillery…"
Leupold & Stevens has been VERY supportive of our initial efforts with ARHunters.com and so we decided to try the Leupold 1x4x HOG Plex and their one piece scope mount. He told me their Armorer did NOT like test firing Thumper and described it kicking like a 12ga. I didn't think a 12ga kicked that bad.
When I got it I thought the recoil was more of a push than a kick, and is rather enjoyable. I told you this is now one of my all-time favorite rifles. I broke in the barrel, got it zeroed, and was very happy with it. I was obliterating milk jugs of water at 300 yards in dramatic fashion.
I plan on having Thumper with me on many hunts. I just need to get within 400yds.

About the Author:
Nathan S. is an avid DIY Hunter, Massage Therapist & Healer, and Husband & Father. A Colorado Native who has lived and explored in AZ, AK, and NM. The wondering spirit has taken him across a lot of the western US; from winters in the desserts around Tucson AZ to the summers of the wide open Alaska. He is a top of his field Licensed Massage Therapist who has worked in some of the very best destination spas in the world. This has placed him between two very different world views and clarified his love of hunting. Nathan astutely studies the best odds for good Do-It-Yourself (DIY) Hunts in NM & CO. He has tagged a NM trophy bull elk with a Muzzle Loader from a unit that doesn't always grow them to trophy class. His "The first priority is to fill the freezer" attitude is also laced with goals related to hard DIY hunts. He has taken deer, elk, pronghorn, & bear in CO and NM over his hunting career. The lessor known species he has taken are NM Javelina, a NM Ibex with a Muzzle Loader, and also chased NM Oryx that ended in tag soup. He continues to apply for tags of species he has not taken in NM and CO. You can find him with his family in tow often times with his daughter keeping pace with his hunting record (more about her soon). We expect Nathan to share some great DIY tips for ARHunters.com and keep Thumper working.