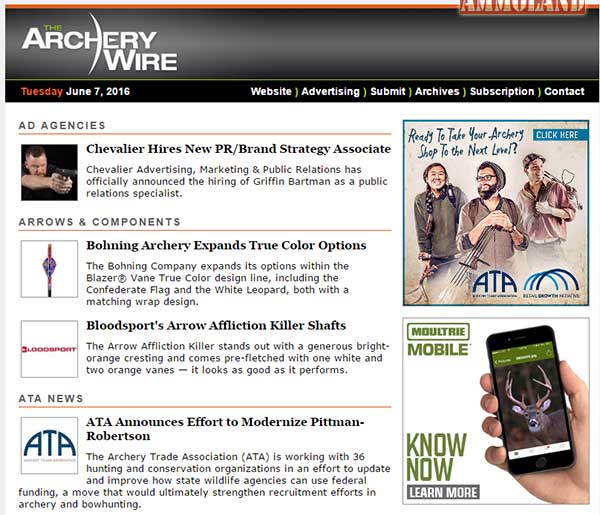 NEW ULM, Minnesota – Archery and bowhunting manufacturers can now share news throughout the industry, thanks to an initiative from the Archery Trade Association (ATA) and the Archery Wire. The Archery Wire delivers a weekly news digest to nearly 27,000 people and companies in the outdoor sports industries.
"We're excited to offer another benefit to ATA members," said Jay McAninch, president/CEO of the ATA. "Our member manufacturers, retailers, distributors and sales representatives often have news that would interest the archery and bowhunting communities. This partnership creates a mechanism for sharing that news with a larger audience at no cost to our members."
The ATA will also work with the Archery Wire to preview new and innovative products slated for exhibit in the 2017 ATA Trade Show's Innovation Zone. The pre-show coverage this fall offers Show attendees a sneak peak, while consumers get a look at start-up companies and the archery products they're developing.
"A collaboration between the ATA and Archery Wire benefits the entire archery industry," said Archery Wire editor J.R. Absher. "Above all, it will keep ATA members apprised of the latest news, events and subjects that matter to everyone involved in archery and bowhunting."
ATA members wishing to take advantage of this news-distribution service can send press releases to the Archery Wire at [email protected] For companies interested in receiving the benefits of ATA membership – which include access to the members-only ATA Trade Show, legislative advocacy, and best-practices information for businesses – join the ATA today.
About the ATA:
The Archery Trade Association is the organization for manufacturers, retailers, distributors, sales representatives and others working in the archery and bowhunting industry. The ATA has served its members since 1953. It is dedicated to making the industry profitable by decreasing business overhead, reducing taxes and government regulation, and increasing participation in archery and bowhunting. The organization also owns and operates the ATA Trade Show, the archery and bowhunting industry's largest and longest-running trade show worldwide.