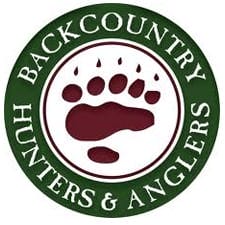 Colorado –-(Ammoland.com)- The Colorado chapter of Backcountry Hunters & Anglers (BHA) recently held their 8th Annual Rendezvous (June 3-5) in the San Isabel National Forest west of Salida/Poncha Springs, Colo. During the weekend they recognized two chapter standouts for their efforts on behalf of wildlands and wildlife and appointed a new chapter leader.
The chapter promoted BHA Life Member Rick Seymour (a U.S. Air Force veteran) to their new Sponsor/Events Coordinator position. Rick was born in Michigan and raised in northern Illinois, then Indiana, but lives in Silt, Colo., today. He hunts with a rifle, shotgun and trad bow, and says: "I started hunting at about 10 years old with a pump pellet gun searching for the local cottontails in Illinois. I started fly fishing in 1985 after first learning to tie flies from a book I checked out numerous times from the local library."
He's hunted for cottontail and snowshoe rabbits, squirrels, ducks, geese, pheasant, elk, mule deer, whitetail deer, pronghorn, bear and bighorn sheep. And he's fished for lake trout, brook trout, bluegill, crappy, northern pike and marlin. Rick adds: "My father always subscribed to Outdoor Life magazine which I read over and over. Outdoor Life taught me a considerable amount concerning ethics, fair chase, game care, weapon handling and the adventures that awaited me in the West."
BHA Life Member Steven Choromanski led Colorado BHA's efforts to get "life-action game cameras" and "smart rifles" banned for use in Colo. by the Colorado Parks & Wildlife (CPW) Commission. The Commission approved the bans during November 2015.[1] The smart rifle ban was approved because, as Petersen's Hunting editor, Mike Schoby, stated: "What if a scope with an onboard computer made making 1,000-yard shots as common as 100 yards?"[2]
A similar ban was adopted by the New Hampshire Fish and Game Dept. during May 2015. "We needed to establish rules regarding these fast-changing technologies to make sure that people understand that their use for hunting is not appropriate or ethical," said Fish and Game Law Enforcement Major Kevin Jordan. "Use of this equipment violates the principle of fair chase because it gives hunters an unfair advantage over wildlife."[3]
In Steven's words (to the CPW Commission), "The Colorado Chapter of the Backcountry Hunters & Anglers … supports the two proposed regulations … We encourage you to approve these regulations, which will preserve the hunting traditions of Colorado, along with continuing the traditions of fair chase, woodsmanship and marksmanship." Steven added, we aim to "keep the hunt in hunting."
The chapter also celebrated the 90th birthday of chapter patriarch, and BHA Life Member/NRA Benefactor Member (& WW II/U.S. Navy veteran), Bill Sustrich. During 2015 the chapter recognized Bill for his sustained commitment to helping protect big game habitat in Browns Canyon near Salida, Colorado, which was designated a national monument during February 2015.[4]
Chapter chairman, David Lien (a U.S. Air Force veteran), said: "Rick, Steven and Bill are textbook examples of the breadth and depth of boots-on-the-ground knowledge and passion that all BHA members bring to the wildlands and wildlife conservation arena. We need many more like them."
Since the Colorado BHA chapter was founded by David Petersen (a U.S. Marine Corps veteran) in 2005 (the first official BHA chapter), they've grown their boots-on-the-ground presence to over 400 dedicated hunters and anglers along with nearly 30 Life Members. In addition, they have 25 Habitat Watch Volunteers serving as their "eyes and ears" on 10 of 11 Colorado National Forests. The chapter still has Habitat Watch openings: contact chapter chairman David Lien ([email protected]) if you'd like additional information/want to volunteer.
Formed around an Oregon campfire in 2004, BHA is the sportsmen's voice for our nation's wild public lands, waters and wildlife. With members in all 50 states and Canada, including 18 state-based chapters and a chapter in British Columbia, BHA brings an authentic, informed, boots-on-the-ground voice to the conservation of public lands.